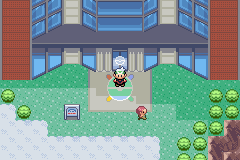 The Battle Tower, arguably the biggest part of the Battle Frontier, however this isnt tournements, a tunnel, Random Pokémon. It's just pure continuous battling. However it Has 4 Modes of Play
First Mode - Single Battles
This is a standard set of battling. You pick 3 Pokémon for your team and battle the standard Way


You battle in 7 Straight Sets til you get let out again

Rules


No Legendaries

Lv. 50 or Any Level

The Level in Any Level matches your top Pokémon Level

No Entry of 2 Pokémon with same items


Second Mode - Double Battles
This is a standard set of battling. You pick 4 Pokémon for your team and battle the Double Way


You battle in 7 Straight Sets til you get let out again

Rules


No Legendaries

Lv. 50 or Any Level

The Level in Any Level matches your top Pokémon Level

No Entry of 2 Pokémon with same items


Third Mode - True Double Battles
This is a way of Battling you have only had once before in the game, when fighting with Steven against Team Magma in the Space Center. First you pick 2 Pokémon to use (yep only 2), and then you get taken to the left. In it you get put into, a Union Room of sorts where there are several computerised Trainers. Pick one and you'll get taken to the battle room


You battle in 7 Straight Sets til you get let out again

Rules


No Legendaries

Lv. 50 or Any Level

The Level in Any Level matches your top Pokémon Level

No Entry of 2 Pokémon with same items

And Remember, you need to work with your computer team mate to defeat your opponents.



Fourth Mode - True Wireless Double Battles
This is where things get even more interesting. You need Wireless Adaptors and friends to do this. When you have signed up your 2 Pokémon it'll search for a Wireless Connection, once on has been established you'll be taken to a true Battle Tower Union Room. Here is where you pick your team mate for battling. The rest is all the same as the third mode


You battle in 7 Straight Sets til you get let out again

Rules


No Legendaries

Lv. 50 or Any Level

The Level in Any Level matches your top Pokémon Level

No Entry of 2 Pokémon with same items

And Remember, you need to work with your team mate to defeat your opponents. It'll help to be next to him/her to strategise



After 35 Consecutive Wins (1 on 1 Only) you get challenged by the Tower Leader. Beat him and you shall get the Silver Battle Tower Badge:
| | | | |
| --- | --- | --- | --- |
| | | | |
| Salan Maiden Anabel | Alakazam | Entei | Snorlax |
After 70 Consecutive Wins (1 on 1 Only) you get challenged by the Tower Leader. Beat him and you shall get the Gold Battle Tower Badge:
| | | | |
| --- | --- | --- | --- |
| | | | |
| Salan Maiden Anabel | Raikou | Snorlax | Latios |