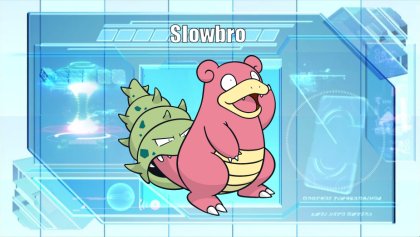 Slowbro, The Hermit Crab Pokémon. When a Slowpoke went hunting in the sea, its tail was bitten by a Shellder. That made it evolve into Slowbro. Slowbro's tail has a Shellder firmly attached with a bite. As a result, the tail can't be used for fishing anymore. This causes Slowbro to grudgingly swim and catch prey instead. An attached Shellder won't let go because of the tasty flavor that oozes out of its tail.
Overview
There's a lot of things you can say about Slowbro, but there's one thing that I'm sure most people can agree on. THIS. THING. WON'T. DIE. Slowbro is gifted as one of the Pokemon with the most recovery options in the game. Between Leftovers, Regenerator, and Slack Off, it's not hard to keep Slowbro healthy, and this makes it a fantastic defensive Pokemon when combined with its solid bulk and good typing. Slowbro has been slowly building momentum over the past couple of generations, and it's not hard to see why given the buffs that Game Freak has bestowed upon it. As is now, Slowbro is a fantastic glue Pokemon that fits on a wide variety of defensive and balanced teams. It's not without its disadvantages (a handful of typing weaknesses and average special bulk come to mind), but when you focus on its strengths and compliment it with the right teammates, it's a real cornerstone to many cores and even entire teams.
Positives
+ 95/110/80 bulk is very solid, giving Slowbro exceptional physical bulk and decent enough special bulk to take a few resisted hits quite nicely.
+As if its bulk alone wasn't good enough, Slowbro also has access to Regenerator, one of the best abilities a defensive Pokemon could ask for.
+Slowbro's Water/Psychic typing comes with 6 handy resistances, most of which are to common and important types.
+STAB Scald is always a good thing, and in Slowbro's case, it's complimented by reliable recovery in Slack Off, a handful of good coverage moves, and several handy support moves as well.
+Did I mention that Slowbro never dies? Because it doesn't.

Negatives
- Where its typing gives Slowbro a few handy resistances, it will also leave Slowbro with 5 common weaknesses.
-This may come as a shocker, but Slowbro is very, very slow. It's a good thing it has all that bulk and recovery, because it'll be forced to take a hit before it can react against most opponents.
-While it isn't bad by any means, Slowbro's lower special bulk does leave it soft on that side without serious EV investment.
-Slowbro's Pokedex entry says that a Shellder bit its tail, but that don't look like any Shellder I've ever seen.
Abilities
Oblivious: This Pokemon cannot be under the Attract condition or Taunted while having this ability. With the addition of a Taunt immunity as of XY, Oblivious went from being basically useless to being pretty okay, but it still pales in comparison to the awesomeness that is Regenerator.
Own Tempo: This Pokemon cannot be Confused while having this ability. Own Tempo is pretty situational given how rare confusion moves are in most rulesets, and Regenerator is leagues ahead of it anyway. Skip!
Hidden Ability (Available):
Regenerator: When the Pokemon switches out of battle, up to 33.3% of its maximum Hit Points are restored. I can't tell you enough just how useful this ability is, especially for a defensive Pokemon like Slowbro. With it, Slowbro can pivot in and out of powerful attackers much more freely since it can just switch right back out and recover a third of its health in the event that it switches into an undesirable move (i.e. switching in and getting hit by U-turn).
Movesets
Breaking News, Elvis Just Passed Away!
-Scald
-Slack Off
-Thunder Wave / Toxic / Foul Play
-Psyshock / Ice Beam / Fire Blast
Item Attached: Leftovers
Ability: Regenerator
EVs and Nature:
EVs: 252 HP / 232 Def / 24 SpD
Bold Nature
If there's one set that Slowbro is most known for, it's probably this one. Slowbro's defensive set best takes advantage of its excellent physical bulk and key resistances to act as a blanket check to a whole host of physical attackers. What's more is that unlike many other bulky tanks, Slowbro's ridiculous amount of recovery makes it pretty hard to wear down. Scald is the primary STAB here since it's just a fantastic STAB move on a bulky Water-type. It's decently powerful, and even those Pokemon that can handle it risk suffering a burn. Slack Off does what Slack Off do, healing Slowbro and letting it wall some pretty powerful threats. The third moveslot is basically there to help Slowbro stop setup sweepers in their tracks. Thunder Wave puts a full stop to many setup sweepers; even if Slowbro can't beat them 1-on-1 with it, the fact that they're now paralyzed makes them much easier to revenge kill. Likewise, Toxic can put pressure on some of the slower and bulker sweepers while also crippling a few common switch-ins to Slowbro. Maybe you'd rather just kill some of those setup sweepers rather than crippling them, in which case Foul Play might suit fancy. Just be aware that while it's great against things like Charizard X, things like Mega Altaria and Mega Gyarados aren't too fond of it. The last slot is dedicated to various coverage moves. Psyshock offers Slowbro a secondary STAB and is especially useful for beating things like Calm Mind Keldeo. Ice Beam can also be used to improve Slowbro's matchup against threats like Dragonite, Garchomp, and Gliscor, whereas Fire Blast slams Scizor and Ferrothorn. The EV spread chosen gives Slowbro just enough special bulk to survive 2 Choice Specs Keldeo Hydro Pumps after Stealth Rock, making Slowbro a great check to it, and the remaining EVs are used to maximize Slowbro's physical bulk as much as possible.
Slow and Steady Wins the Calm Mind Wars
-Calm Mind
-Scald
-Psyshock
-Slack Off
Item Attached: Leftovers
Ability: Regenerator
EVs and Nature:
EVs: 252 HP / 232 Def / 24 SpD
Bold Nature
So what do you do when you have a Pokemon with great physical bulk, STAB Scald and Psyshock, and reliable recovery? Well, if you're like me, you slap Calm Mind on that puppy and give it a go. The aforementioned traits make Slowbro a pretty solid Calm Mind user. Psyshock in particular is handy to have since it lets Slowbro beat opposing Calm Mind users 1-on-1. While Slowbro's boosting its special bulk with Calm Mind, it can also spam Scald for a chance to burn and thus take physical hits better as well. Having to sit down and boost slowly in order to get ready to sweep means that the reliable recovery is more important than ever, so Slack Off is another staple on this set. Unlike the defensive set, there's not much room for variation on this one, but you could possibly fit a different coverage move or something like Thunder Wave over Psyshock, although you will lose the ability to beat other Calm Mind users. The EVs for this set are identical to the first one, although you might want to run a little more special bulk to help setting up against special attackers, depending on your team.
Other Options
Assault Vest, Psychic, Flamethrower, Grass Knot, Trick Room, Yawn, Counter, FunBro
Slowbro's solid movepool and access to Regenerator make it a decent Assault Vest user, but unless you're hitting a physical bulk benchmark that Slowking can't hit, Slowbro's kingly cousin tends to pull such a set off a little better with its greater special bulk and access to Dragon Tail.
Psychic can be used over Psyshock for greater power on average, but Slowbro needs Psyshock to better handle a few things like Calm Mind Keldeo with the defensive set and to beat other Calm Mind users with the Calm Mind set.
Flamethrower is a more accurate alternative to Fire Blast with more PP, but the power drop is noticeable, especially considering that an uninvested Slowbro doesn't exactly have the best special power in the world.
Grass Knot is a little more team specific, but it does have use for better checking things like Mega Swampert and Mega Gyarados.
Slowbro is a great Trick Room supporter given its great bulk and loads of recovery, so it's a solid option on those types of teams.
Yawn can put opponents in an awkward position; either switch out or take the sleep. It's not as reliable of a status move as Thunder Wave or Toxic, though.
Counter seems great on the surface, especially given Slowbro's affinity for taking physical hits. However, it's a 3rd Gen tutor move and thus illegal with Regenerator, so it's not worth the loss.
There once was a tale of a Slowbro set named "FunBro" with Heal Pulse / Recycle / Slack Off / Block and a Leppa Berry that could be used to create literally endless battles. Legend has it that players that used this set suddenly disappeared and were never seen or heard from again. Ye have been warned.
Double & Triple Battle Options
Slowbro is a handful of a few Pokemon that can justifiably be ran without their Mega Stone but are still threatening with a Mega Stone. Slowbro's usefulness comes mostly from its select resistances, high defense and abilities that compliment it.
Fastbro
Trick Room
Scald
Psychic / Psyshock
Protect / Slack Off
Item Attached: Sitrus Berry / Leftovers
Ability: Oblivious
EVs and Nature:
EVs: 252 HP, 252 Def, 4 SAtk
Bold Nature
The set drastically undermines Slowbro's vast movepool in Thunder Wave, Icy Wind, Disable and access to Regenerator. There are a plethora of combinations that vary in utility depending on its team members. When considering Regenerator Slowbro, keep in mind its resistances as to know what is safe to switch in, and its weaknesses as to know what to switch out to to get the most out of Regenerator. NOW on to the set in front of us! With Oblivious, Slowbro can't be taunted, which means Trick Room is more than likely to go up on the first turn you select it. Scald will be Slowbro's primary offensive move, the burn rate is beautiful and more than compliments Slowbro's high physical bulk. Psychic has a chance to lower Special Defense, but Psyshock hits for Physical damage, and isn't weakened by Intimidate. The last slot is for Slowbro's survivability. Protect is self explanatory, but Slack Off presents the opportunity to make turns of chip damage and weak attacks all for naught as it recovers 50% of its health back.
Slowbro's partners (in Trick Room focused sets) will want to be slower, and perhaps scare away electric types or have Lightning Rod for an ability. Rhyperior stands out, but there's the nasty Grass Weakness shared between the two. Perhaps a Talonflame could patch that up! Generally speaking, Mega Mawile appreciates Trick Room, and can even use Slowbro to dodge Fire attacks, and Slowbro can use Mawile to dodge some Dark attacks.
Slowbro has a terrible weakness in having an easier to exploit base 80 SDef. That makes Slowbro Thunderbolt bait for Thundurus, Giga Drain Bait from Ludicolo, Or Dark Pulse bait from Hydreigon. There are a lot of weaknesses to exploit that happen to have powerful moves on the Special side, that's really unfortunate for Slowbro, and even Mega Evolving doesn't help it a bit because Defense and Special Attack are raised and nothing else! Make sure the team it's on has a way to handle these common threats.
Countering Slowbro
Thankfully, keeping Slowbro in check isn't too hard. The Calm Mind set has a little bite to it after a couple of boosts, but other than that, it's pretty passive. The main problem with Slowbro isn't taking its hits, but rather trying to break it. Strong Grass- and Electric-types can do a real number to Slowbro with their super-effective STAB moves. The fact that many of these Pokemon are special attackers means that they can also hit Slowbro on its weaker special side, and they generally won't mind a Scald burn quite as much. Various Ghost-, Dark-, and Bug-types such as Gengar, Bisharp, and Scizor can also threaten Slowbro with their STABs. The fact that many of them are physical attackers, however, makes it a little harder for them to break Slowbro and leaves them more vulnerable to Scald burns. On that note, strong special attackers in general can be pretty threatening to Slowbro, provided you can get to it before it gets up too many Calm Minds. Another thing Slowbro hates is Toxic; the strong poison will eventually overpower its Slack Off recovery, so it's a great way to get past Slowbro if you lack the raw power to KO it. Lastly, some bulkier stall breakers like Mew can beat Slowbro with Taunt and their natural bulk, preventing it from giving your team too much trouble.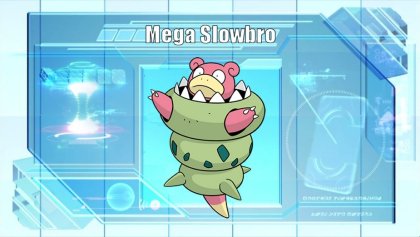 Overview
A lot of people were pretty disappointed when we got the first details on Mega Slowbro. You've got one of the best defensive Water-types in OU and it's getting a Mega form…only to get stuck with Shell Armor for an ability. Then we got the stats and found out that Mega Slowbro got a stunning Defense boost, along with an exception boost to its Special Attack stat as well. With that, what looked like one of the most disappointing Megas of ORAS soon became one of the more solid Mega Pokemon out there. After a few Calm Minds (and maybe even an Iron Defense boost or two), Mega Slowbro can become an almost impenetrable fortress that just laughs at your pitiful attempts to break it until it steamrolls you into the dirt. It can also afford to run an all-out offensive set to take advantage of its high special power and good coverage while still having more physical bulk than normal Slowbro! It's definitely proven itself to be a worthy competitor and one that you need to seriously consider when teambuilding.
Positives
+ Mega Slowbro's special bulk may not be any more than Slowbro's, but its physical bulk is nothing short of titanic. Only a couple of things like Avalugg and Eviolite Rhydon can take physical hits better than Mega Slowbro.
+ As the Mega form of Slowbro, Mega Slowbro inherits Slowbro's solid movepool, completely with reliable recovery and plenty of cool coverage moves.
+ Mega Slowbro also inherits is normal form's typing, which means it gets all of those tasty resistances as well.
+ Base 130 Special Attack is great, allowing Mega Slowbro to pack quite a punch with an offensive set.
+ Despite normally being a pretty mediocre ability, Shell Armor is actually pretty useful for Calm Mind sets, preventing opponents from muscling past Mega Slowbro with critical hits.
+ As a Mega Pokemon, Mega Slowbro takes less damage from the initial Knock Off than Slowbro and is immune to Trick and Switcheroo, protecting it from a few Pokemon that might trouble Slowbro.

Negatives
- As mentioned earlier, Mega Slowbro's special bulk isn't any higher than Slowbro's, and the difference between their special tanking ability is even greater when you factor in the loss of Leftovers and Regenerator.
-Mega Slowbro is still just as slow as its regular form, so unless it's under Trick Room, it's not outspeeding much.
-Mega Slowbro still has those 5 rather nasty weaknesses, and even physical hits of those types can do a lot of damage to Mega Slowbro if they're strong enough.
-Okay, now it REALLY doesn't look like a Shellder.
Abilities
Shell Armor: The opponent's moves cannot critical hit. Even though this has never been an extremely useful ability, Mega Slowbro just might be the perfect Pokemon to abuse it. One problem with many defensive boosters is that a single badly timed critical hit can completely ruin their sweep, but Mega Slowbro won't have to worry about that thanks to Shell Armor.
Movesets
Unbreakable
-Calm Mind
-Scald
-Psyshock / Iron Defense
-Slack Off / Rest
Item Attached: Slowbronite
Ability: Shell Armor (Regenerator on Slowbro)
EVs and Nature:
EVs: 252 HP / 176 Def / 80 SpD
Bold Nature
Yeah, and you thought Slowbro was a good Calm Mind user. I still remember people discovering Mega Slowbro's base 180 Def stat for the first time and being worried that it would be broken as a Calm Mind user. While it's not quite as terrifying as they might have feared, there's no doubt that Mega Slowbro is a very powerful Calm Mind sweeper. Other Calm Mind users that may use Psyshock (or Secret Sword in Keldeo's case) have little to no chance to break Mega Slowbro due to its Psychic typing, titanic physical bulk, and immunity to critical hits. The Scald and Psyshock combo is pretty self-explanatory; both are decent STABs, with Scald offering burns and Psyshock offering a way to beat other Calm Mind sweepers. However, Iron Defense is also an option alongside Scald. With it, even powerful super effective physical hits can be shrugged off. Your recovery option depends on your team structure. Slack Off is easily the more reliable recovery option at Mega Slowbro's disposal due to its reliability, but Rest has its uses. While Mega Slowbro is considerably more vulnerable to 3HKOs than 2HKOs, the ability to heal off status can save it from losing to a stray Toxic. It's more suited to a set carrying Iron Defense so that Mega Slowbro will eventually be able to boost up to the point that it can avoid 3HKOs on both the physical and the special side. The Special Defense EVs here are designed to do just what the regular Slowbro EVs do: avoid the 2HKO from Choice Specs Keldeo's Hydro Pump after Stealth Rock. The Defense EVs are used to hit a jump point and to also avoid a 2HKO from Mega Gallade's Swords Dance-boosted Knock Off. That's right, Mega Slowbro can avoid a super effective coverage move after Swords Dance from a Mega Gallade. TWICE. The EVs here can be changed, however, to give Mega Slowbro a little more special bulk and let it survive more special hits after a Calm Mind or two. This is especially useful when you're using Iron Defense since, after one or two of those, Mega Slowbro isn't going to need much help from its EVs to survive physical hits.
The Devourer
-Scald
-Psychic / Psyshock / Fire Blast
-Ice Beam / Fire Blast / Grass Knot
-Slack Off
Item Attached: Slowbronite
Ability: Shell Armor (Renerator on Slowbro)
EVs and Nature:
EVs: 252 HP / 252 SpA / 4 SpD
Modest Nature
Okay, so we've all heard a lot about Mega Slowbro's absurd Defense boost, but don't forget about the significant boost to its Special Attack stat! With a base 130 Special Attack stat and a Modest nature, Mega Slowbro hits surprisingly hard. Scald suddenly becomes that much more dangerous since, even if you don't get a burn, you now have a much greater bite behind your STAB. Psychic hits many of the Pokemon that resist Scald pretty hard, such as Keldeo and Manaphy. You can also run Psyshock if you want to match up better against Calm Mind users and other specially bulky Pokemon, but you generally win with Psyshic regardless given how powerful Mega Slowbro is. Finally, you have your coverage moves. Ice Beam beats down Pokemon like Celebi and the Lati twins that would otherwise resist Mega Slowbro's STABs, whereas Fire Blast is deadly against Pokemon like Ferrothorn and Scizor. Grass Knot is also a great weapon against various Water-types, major examples being Mega Gyarados and Azumarill. There's also the possibility of using Fire Blast alongside Ice Beam or Grass Knot and dropping your Psychic STAB altogether. The EVs here are used to first maximize Mega Slowbro's special power and then bolster its bulk as much as possible, but more complex spreads with more defensive EVs are possible. For example, 80 Special Defense EVs can be used to better take on Keldeo for the reasons mentioned under the last set, and 36 Defense EVs will allow Mega Slowbro to avoid the 2HKO from Mega Charizard X's Dragon Dance-boosted Dragon Claw. You can even use both benchmarks and still maintain most of your special power.
Broblade
-Scald
-Slack Off
-Thunder Wave / Toxic / Foul Play
-Psyshock / Psychic / Ice Beam / Fire Blast
Item Attached: Slowbronite
Ability: Shell Armor (Regenerator on Slowbro)
EVs and Nature:
EVs: 252 HP / 176 Def / 80 SpD
Bold Nature
I know what you're thinking. This looks just like the normal defensive Slowbro set with the Slowbronite attached. And that's because it IS the normal defensive Slowbro set with the Slowbronite attached! This set is a little more team specific since regular Slowbro can generally get the job done without using up your Mega slot. However, Mega Slowbro's insane physical bulk and extra power give it a clear advantage in some situations. That said, this plays just like Slowbro's equivalent set. You've got Scald there for its decent power and signature burn chance, first and foremost. Slack Off keeps Mega Slowbro healthy and lets it safely take on even some of the strongest physical attackers. Next you have either Thunder Wave to cripple faster sweepers, Toxic to cripple bulkier Pokemon, or Foul Play to destroy physical boosters. Lastly you have either the choice of a Psychic STAB, Ice Beam for Dragons and such, or Fire Blast for things like Ferrothorn. The main difference between this set and Slowbro's set is that Psychic is a bit better of an option on this set, the main reason being that Mega Slowbro is so powerful that it doesn't really need to hit Calm Mind Keldeo's Defense stat with Psyshock in order to break it. The EVs are again here to better handle Choice Specs Keldeo with the rest used to bolster physical bulk, but there is still the option of running more special bulk (or even going all out on physical bulk, if you feel so inclined).
Other Options
Flamethrower, Sleep Talk, Trick Room, Future Sight, Surf, Yawn, Oblivious
Like Slowbro, Mega Slowbro can use Flamethrower over Fire Blast for the greater accuracy and PP at the cost of power. Its naturally high special power also makes up for the power loss a little better.
Sleep Talk can be used alongside Rest, Calm Mind, and Scald to form a CroCune-esque set that can be a real threat to balanced teams. Plus, "CroBro" is really fun to say!
Mega Slowbro can be a solid Trick Room supporter just like its regular form, and with its great power and coverage, it's even capable of sweeping some frailer teams under Trick Room.
Future Sight can be handy on offensive sets; it really packs a punch when it hits, and with the right teammates, it can put some opponents in a real checkmate position. Not being able to immediately hit the opponent with your Psychic STAB can get in the way sometimes, though.
Surf is slightly stronger than Scald, which might be useful sometimes on offensive sets, but giving up the chance to burn is far too much of a downside to make Surf an optimal choice.
Yawn is another one of those moves that can put the opponent in a checkmate position and can force switch-ins to either switch right back out or fall asleep.
Oblivious is generally inferior to Regenerator, but it can be useful on Calm Mind sets to protect Slowbro from Taunt until it's ready to Mega evolve. Still, in the event that you want to pivot in and out with Slowbro before settling down and boosting, Regenerator is easily superior.
Double & Triple Battle Options
Mega Slowbro loses it's stronger abilities in dodging Taunts or Recovering Health on a switch out for never being crit, which can be nice for someone who's down on their luck, but doesn't seem as useful as what it had before. However the Defense and Special Attack increase put it in a spot where just one Calm Mind would make it quite the threat.
Eaten Alive
Calm Mind
Scald
Psychic
Slack Off / Protect
Item Attached: Slowbronite
Ability: Shell Armor (Regenerator on Slowbro)
EVs and Nature:
EVs: 252 HP, 252 Satk, 4 Sdef
Modest Nature
Mega Slowbro has an absurdly high Defense, but Special Defense wasn't touched. Luckily Calm Mind can help patch up the problem while also boosting Mega Slowbro's base 130 SAtk. With these stat boosts in mind, Slowbro now takes on the role of a bulky attacker. Scald will ruin any dreams on breaking through on the physical side if a burn happens. Psychic is Secondary STAB, and fairly strong too. Protect is self explanatory, but can be foregone if you've paired Mega Slowbro with a redirection Pokemon like Togekiss, Amoongus or Clefairy. With that support it's not only feasible to get in more Calm Minds, but Slack Offs too. Shell Armor stops unfortunate critical hits from happening too.
Mega Slowbro likes to set up, so Pokemon with Rage Powder or Follow Me should be considered. Eviolite Friend Guard Clefairy wouldn't be a bad start, lessening damage given to its already bulky partner.
Mega Slowbro is rather limited by its unchanged Special Defense and the need to get a Calm Mind or two in before it starts hitting for heavy damage. And even with Calm Mind available, there are some seriously powerful special attackers around like Specs Hydreigon/Therian Thundurus that will just destroy any attempts made to close a game up early. Being slow makes it all the more likely to be flinched from Rock Slide too. Some support is needed to make Slowbro work, but with said support, trying to take down +1 Mega Slowbro behind a Light Screen with Thunderbolt will prove challenging, even insurmountable for the unprepared opponent.
Countering Mega Slowbro
First of all, special attacks are your best friend when you're fighting Mega Slowbro. Its special bulk is no greater than Slowbro's, and the loss of both Leftovers and Regenerator makes it take special hits even less effectively. Mega Slowbro's Grass, Ghost, Electric, Dark, and Bug weaknesses leave it open to strong special attackers of those types, anything from Mega Venusaur to Thundurus to Gengar. That said, it's not impossible to break Mega Slowbro with physical attacks despite its enormous Defense stat. Mega Heracross can 2HKO with Pin Missle without too much trouble, and Life Orb Breloom can even OHKO with Bullet Seed if it gets 5 hits. The only problem is that Mega Slowbro has ways of getting around these strong physical attackers via Iron Defense and the occasional Scald burn, and you can't even critical hit your way around that. Unlike normal Slowbro, Mega Slowbro can actually dish out some pretty strong hits, so it's good to have a defensive answer to it as well. Bulky Water-types in general are solid answers provided they can handle a Psychic/Psyshock. Just be careful around Grass Knot variants. If Mega Slowbro isn't carrying Ice Beam, Dragon-types like the Lati twins and Dragonite can handle it, whereas non-Fire Blast sets can be handled by Ferrothorn. The Calm Mind sets with Iron Defense can be especially dangerous since they're borderline unbreakable after a few boosts, so it's good to have Toxic to wear it down, very powerful super effective attacks to break it even after a boost or two (think Choice Specs Raikou and such), or a Taunt user that can shut down its boosts and recovery while wearing it down with dying itself. In fact, every set without Rest (or Heal Bell/Aromatherapy support, for that matter) hates Toxic, so just having that somewhere on your team can be a big help against Mega Slowbro.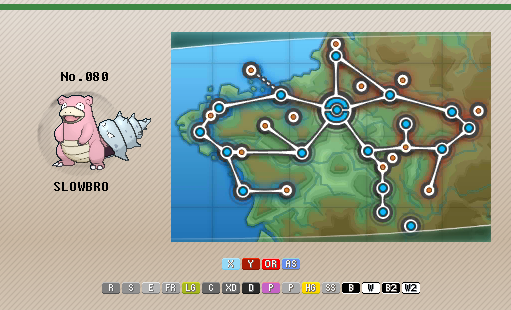 Locations in Games
Ruby/Sapphire/Emerald:
Trade from LeafGreen
FireRed/LeafGreen:
Seafoam Islands Basements 1 & 2 (Cave) & 3 & 4, Cape Brink (Surf & Cave), Berry Forest, Cerulean Cave Floor 1 & Basement 1 (Surf), Cinnabar Island (Fish) (LeafGreen)
Trade from LeafGreen (FireRed)
Colosseum/XD:
Trade from LeafGreen
Diamond/Pearl/Platinum:
Evolve Slowpoke (Pearl, Platinum)
Trade from Pearl, Platinum, HeartGold, SoulSilver (Diamond)
HeartGold/SoulSilver:
Slowpoke Well, Seafoam Islands, Tohjo Falls, Safari Zone
Black/White:
Abundant Shrine
Black 2/White 2:
Evolve Slowpoke
X/Y:
Evolve Slowpoke
Omega Ruby/Alpha Sapphire:
Evolve Slowpoke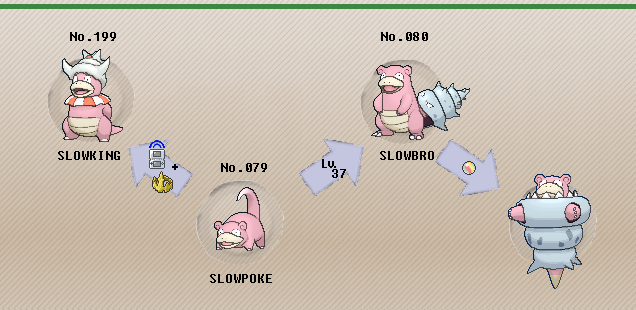 Animé Appearences
| | |
| --- | --- |
| Slowbro has made a few appearances in the anime. Most notably it was used by Prima in the Orange Islands, and Soledad in the Kanto Grand Festival | |