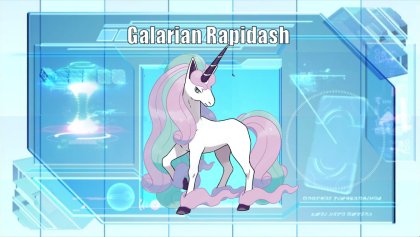 Rapidash, The Unique Horn Pokémon. Little can stand up to its psycho cut. Unleashed from this Pokémon's horn, the move will punch a hole right through a thick metal sheet. Brave and prideful, this Pokémon dashes airily through the forest, its steps aided by the psychic power stored in the fur on its fetlocks.
Overview
One of the most, if not the most, elaborately teased Pokemon with the 24 hour stream, Galarian Rapidash is an interesting Pokemon. Fairy is a great typing but doesn't have synergy with its primary Psychic typing which just compounds weaknesses, and this is far from the first time we've seen this typing. This is the first time we've seen it on a physical attacker though, but in conjunction with no really good ability this makes Galarian Rapidash a poor choice for most competitive teams.
Positives
Fairy is one of the best offensive types so having it as a STAB with Swords Dance to back it is nothing to scoff at.
Good enough coverage lets Galarian Rapidash get the job done as a wall breaker.

Negatives
Low bulk and poor defensive typing makes it hard for Galarian Rapidash to get in throughout the match and can make it dead weight in some matches.
In most standard metagames, Galarian Rapidash faces immense competition with Hatterene and Clefable which are both better most of the time.
Abilities
Anticipation - On switch in, reveals if the opponent has a super effective move - This is okay, sometimes it's nice to know if the opponent has unexpected coverage for you but in the average competitive area sets are pretty static so this isn't the most impactful ability.
Pastel Veil - Prevents poison for itself and allies - This would be good on a tanky Pokemon as Toxic is a crippling move for them, but Rapidash doesn't mind Poison enough for a special ability to stop it. Sadly this is Galarian Rapidash's best ability. It does work slightly better in Doubles, however.
Run Away - Guarantees fleeing in battle - An ingame ability, don't use it.
Movesets
Swords Dance
-Swords Dance
-Play Rough
-High Horsepower
-Zen Headbutt / Wild Charge
Item Attached: Life Orb / Expert Belt
Ability: Pastel Veil
EVs and Nature:
252 Atk / 4 Def / 252 Speed
Jolly Nature
Swords Dance allows Galarian Rapidash to boost its decent Attack high enough to fish for some OHKOs with its decent Speed. Play Rough is the primary STAB as Fairy is excellent typing and is a spammable type similar to Dragon. High Horsepower allows Galarian Rapidash to hit Steel- and Fire-types that resist Play Rough, giving good neutral coverage as well as an option for Poison-types if Zen Headbutt isn't used in the last slot. Lastly Zen Headbutt is an option for Poison-types and another STAB, while Wild Charge can be used for threats such as Corviknight that dodge High Horsepower.
Galarian Rapidash has the exact same stat spread as Kantonian Rapidash so once again Rapidash only cares about its offensive potential here, with Jolly being the preferred nature. However, Galarian Rapidash is hurt less by the recoil of Life Orb due to having STAB moves that don't have recoil as well, so Life Orb becomes less of a double-edged sword here. Expert Belt is still a valid option here, but otherwise makes Galarian Rapidash a less reliable wallbreaker.
Partners
Incineroar - With the ability to check Steel-types and switch into Fire-types, Incineroar is a nice option with its bulk, ability in Intimidate, and support moves such as Will-O-Wisp and Parting Shot to get Galarian Rapidash in with ease.
Countering Rapidash
Corviknight - Without Wild Charge Corviknight can just wall Galarian Rapidash without much fear, and even with Wild Charge, Galarian Rapidash needs a Swords Dance and Stealth Rock to have a high chance of OHKOing if Corviknight is full health.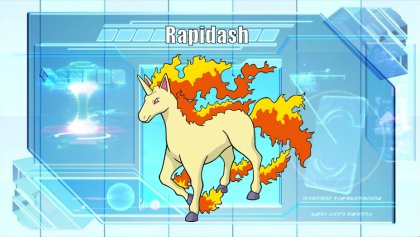 Rapidash, The Fire Horse Pokémon. This Pokémon can be seen galloping through fields at speeds of up to 150 mph, its fiery mane fluttering in the wind. The fastest runner becomes the leader, and it decides the herd's pace and direction of travel.
Overview
The Fire Horse Pokemon, Rapidash has been in a spot of middling Fire type since its release even when Fire types were facing weaker competition with Moltres, Charizard, and Arcanine. Even in Gen 2, Rapidash struggled with new faces such as Entei who packs serious bulk and Typhlosion who arguably is a lesser Charizard. However Rapidash has gained some tricks over the years such as Drill Run, Wild Charge, and Play Rough, and while it can't really compete with Arcanine who does its job better, Rapidash is still a powerful Choice Band user. Rapidash's struggles have only increased since then, as its stats are the biggest thing holding it back, but that doesn't mean it hasn't gained a number of tools over the years in the process.
Positives
Rapidash is quite fast at base 105 and with 100 base Attack, it can dish out some damage making it an excellent user of Choice items.
Good enough coverage to hit many threats for super effective damage, which makes it harder to wall.
Newly gained access to Swords Dance allows Rapidash to act as a powerful wallbreaker, allowing it to patch up its otherwise underwhelming Attack stat.

Negatives
Rapidash stats have not held up making it dependent on a Choice item to make an impact. This is compounded by how frail Rapidash is in combination with a Stealth Rock weakness that limits its chances to get in throughout a match.
Rapidash's best moves come with recoil, limiting the longevity of the Swords Dance set by a large margin.
Abilities
Flame Body - 30% chance to burn on physical contact - It's alright, can snag a burn on things Rapidash comes into, namely U-Turn. Worse than Flash Fire but still solid.
Flash Fire - The user's Fire-type attacks are powered up by 1.5x when hit by a Fire-type attack and also grants immunity to these attacks - A free immunity is never bad even with its resistance to Fire, since the boost can give Rapidash a much-needed increase in damage when it comes up.
Run Away - Guarantees fleeing in combat - An ingame ability only with no competitive use.
Movesets
Choiced Attacker
-Flare Blitz
-High Horsepower
-Wild Charge
-Play Rough / Toxic
Item Attached: Choice Band / Choice Scarf
Ability: Flash Fire
EVs and Nature:
252 Atk / 4 Def / 252 Speed
Jolly Nature
With a Choice item Rapidash can become a wallbreaker with a band or a late game cleaner or revenge killer with a scarf. Flare Blitz is the main move of the set as it gets a STAB bonus and has a meaty 120 base damage. High Horsepower allows for coverage against Rock-types that could sponge Flare Blitz. Wild Charge allows for coverage against bulky Water types that could just wall Rapidash all day. Finally the last move is open, Play Rough is just move coverage for stuff like Dragon-types while moves such as Toxic or Will-O-Wisp can cripple a switch in potentially more than damaging them would.
Between the Choice item and Flare Blitz, there's no reason to invest in bulk, so maximum Attack and Speed is the way to go. Jolly nature is also ideal since Rapidash's Speed tier is one of its best traits and it can't afford to be outsped with its middling bulk. Flash Fire gives Rapidash very safe switch-in opportunities against Fire-type moves and also boosts its wallbreaking power with Flare Blitz when the situation comes up.
Swords Dance
-Swords Dance
-Flare Blitz
-High Horsepower
-Wild Charge
Item Attached: Life Orb / Expert Belt
Ability: Flash Fire
EVs and Nature:
252 Atk / 4 Def / 252 Speed
Jolly Nature
With Swords Dance, Rapidash becomes a terrifying wallbreaker as not much wants to stomach its coverage. Flare Blitz is the STAB of the set and sadly Rapidash lacks another option without recoil so it has to live with that. High Horsepower lets Rapidash hit Rock-type threats that would sponge Flare Blitz hard, and while it's worth mentioning Low Kick is also good as an alternative, its damage fluctuates a lot so it's not always consistent. Wild Charge rounds out the set for some coverage against Water-types but also comes with a recoil.
Jolly nature is even more of a no-brainer on this set since Rapidash is just going to be boosting its Attack with Swords Dance anyway, so outspeeding everything it can is even more important. Life Orb will make Rapidash hit much harder than Expert Belt, but will shorten Rapidash's lifespan much quicker so the choice is up to preference. Expert Belt does work well with the large range of coverage that the moveset provides though it does weaken its overall sweeping potential. Flare Fire is still the preferred ability as usual, Rapdiash definitely can't afford to be taking damage from switching into Fire-type moves when it has the option to be immune.
Teammates
Virizion - Good bulk and an ability to be Special or Physical for a surprise factor, Virizion is a nice option for its ability to pivot and boost on bulky Water-types and Rock-types that can switch into Rapidash. Meanwhile Rapidash can chip at bulky threats to Virizion such as Frosmoth, and to a lesser degree Mamoswine, with the power of Flare Blitz and its good coverage options.
Noivern - With access to U-Turn and very high Speed to cripple walls with Trick, Noivern is a nice option as it can pivot into bulky Water-types such as Blastoise and Milotic and U-Turn out on Steel- and Ice-type threats that Rapidash can boost on, such as Frostmoth.
Checks & Counters
Gastrodon - While taking repeated Flare Blitz without using Recover will be bad overall, Gastrodon is an excellent answer to Rapidash as it has to lean on lower power moves for damage such as High Horsepower or Play Rough while Gastrodon can KO with Earth Power, Scald, or Toxic stall it.
Rhyperior - With Solid Rock, Rapidash needs Low Kick to handle Rhyperior and even then with its good physical bulk it's not a guarantee unless Rapidash has a boost. Meanwhile Rhyperior can threaten to OHKO back with Earthquake or Rock Blast and can get pressure to set up Stealth Rocks instead.
Locations in Games
Red/Blue/Yellow:
Evolve Ponyta
Gold/Silver/Crystal:
Route 28, Mt. Silver
Ruby/Sapphire/Emerald:
Trade from FireRed/LeafGreen/XD
FireRed/LeafGreen:
Kindle Road, Mt. Ember
Colosseum/XD:
Snagged from Cipher Peon Kolest in Citadark Isle (XD)
Diamond/Pearl/Platinum:
Evolve Ponyta
HeartGold/SoulSilver:
Route 22, Route 28, Mt. Silver
Black/White:
Route 12
Black 2/White 2:
Trade from Black/White
X/Y:
Evolve Ponyta
Omega Ruby/Alpha Sapphire:
Evolve Ponyta
Sun/Moon:
Transfer from Generation VI
Ultra Sun/Ultra Moon:
Transfer from Generation VI
Let's Go, Pikachu!/Let's Go, Eevee!:
Route 17
Sword/Shield:
Evolve Ponyta, Max Raid Battles: Bridge Field, Hammerlocke Hills, Lake of Outrage, Rolling Fields (Shield)
Trade from Shield (Sword)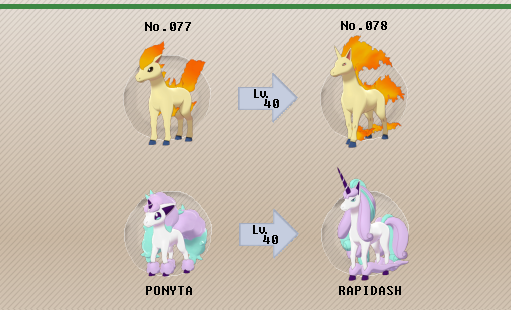 Animé Appearences
| | |
| --- | --- |
| Rapidash has made a few appearances in the anime. Most notably, Ash rode one in a race. | |