31-01-2017 04:04 GMT / 23:04 EST by Serebii
This update may be amended throughout the day so be sure to check back. If you have any ideas for the site, be sure to send them in
With the new generation out, the Chatroom has been rife with discussion while the WiFi Chatroom has been a place for battles, trades and Friend Safari hunting, so be sure to visit them. Our Forums have also had these discussion and are a bustling trade and competitive section for the games. Be sure to like our FaceBook Page.
Last Update: 10:04 GMT
Edit @ 04:07: 2017 International Challenge | Edit @ 04:15: QR Teams and Friendly Competitions | Edit @ 06:05: Pokémon Shuffle Events | Edit @ 10:04: Pokémon Duel Update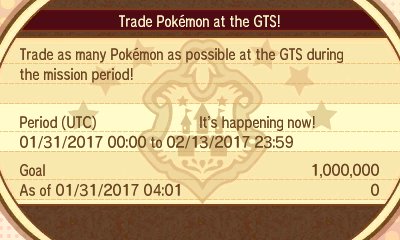 In The Games Department
Pokémon Sun & Moon - Global Missions
The third Pokémon Sun & Moon Global Mission has begun. This Global Mission's theme involves trading Pokémon through the Pokémon Global Trade Station. To beat this Global Mission, over 1,000,000 Pokémon need to be traded. Rewards are 2,000 FC (Success), 200 FC (Failure) - If the game is tied to a Global Link account: 4,000 FC (Success), 400 FC (Failure). This Mission runs until February 14th 2017 23:59 UTC. In a new twist, if you manage to make 5 or more trades on the GTS during the mission, you will receive 5 Rare Candy and if 2,000,000 Pokémon are traded, then all participants get a Friend Ball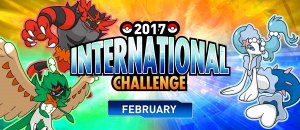 In The Games Department
Pokémon Sun & Moon - Battle Competition
Details of the next Battle Competition have been announced. This is the 2017 International Challenge February competition. This is a Double Battle competition using VGC 2017 rules requiring the Alola Pokédex only. Cosmog, Cosmoem, Solgaleo, Lunala, Magearna, Necrozma and Zygarde are not allowed. Mega Stones are also not allowed. Registration will be open from February 16th at 00:00 UTC to February 23rd 23:59 UTC and battles will run from February 24th through February 26th. All entrants will get the Mawilite and Beedrillite Mega Stones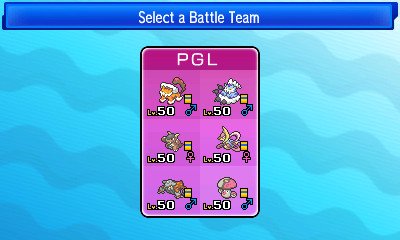 In The Games Department
Pokémon Sun & Moon - QR Teams & Friendly Competitions
Following its reveal in the pre-release, the functionality that allows for you to create a QR Code to share your team with other players which can then be scanned and used in the game in the Battle Tree and in communication with friends. You can even search the Global Link for QR Teams, including the ability to search for ones with specific Pokémon, moves, items and abilities. The Global Link will also provide the "top" teams. Each player has got a Builder Rank which alters how many teams you can put live, with the rank increasing the more someone uses your team, starting at 20 uses to get to Level 2. The Global Link will also display the top used QR teams, creators of QR teams that have their teams frequently used as well as QR teams of the high ranking players if they have chosen to share it. Do note, a Pokémon's Happiness value is not carried over, so moves such as Return and Frustration reset to their default rather than their intended power.
In addition to this, the functionality to create a special Friendly Competition is now available on the Pokémon Global Link, which can be done both online or as a local Live Competition allowing for full competition checking and battle box locking. You also have the ability on the Global Link to view other people's competitions and potentially join them. Competitions won't be held until 20 or more people participate and you can set whether to use the Your Time or Match Time timers, allow for Z-Crystals and Mega Stones. Competitions can only last one day and need to be shared by sharing the Global Link URL for the Friendly Competition for players to obtain the QR Code for Friendly Online Competitions. These features utilise the QR Codes in the game but need to be scanned in their respective areas rather than the standard QR Scanner
QR Codes will only work for your Game Sync ID, so sharing of QR Teams and Friendly Competitions requires giving a link to the Global Link page for the team/competition.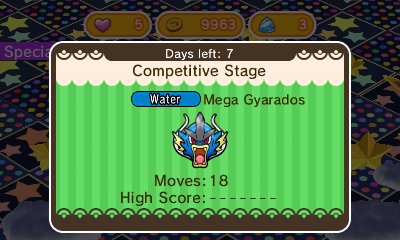 In The Games Department
Pokémon Shuffle - Events
A few brand new challenges have begun on Pokémon Shuffle and Pokémon Shuffle Mobile.
First up is a Mega Gyarados competitive stage. The top 200 players in Europe and 1000 players in Japan, you will get 5 Raise Max Level, 5 Mega Speedup and 1 Gyaradosite. If you are in the top 500 in Europe and 2500 in Japan, you will get 4 Raise Max Level, 4 Mega Speedup and 1 Gyaradosite. If you are in the top 1000 in Europe or 5000 in Japan, you will get 3 Raise Max Level, 3 Mega Speedup and 1 Gyaradosite. If you are in the top 2000 in Europe or 10,000 in Japan, you will get 2 Raise Max Level, 2 Mega Speedup and 1 Gyaradosite. If you are in the top 4000 in Europe or 20,000 in Japan, you will get 1 Raise Max Level, 1 Mega Speedup and 1 Gyaradosite.If you are in the top 6000 in Europe or top 30,000 in Japan, you will get 1 Mega Speedup, 1 Skill Booster M and 1 Gyaradosite. If you are in the top 9000 in Europe or 45,000 in Japan, you will get 1 Disruption Delay, 1 Exp. Booster L and 1 Gyaradosite. If you in the top 12000 in Europe or 60,000 in Japan, you will get 1 Gyaradosite and 1 Disruption Delay. If you are in the top 16,000 in Europe or 80,000 in Japan, you will get 1 Attack Power and 1 Disruption Delay. All other players will get an Attack Power
Next, a Latias Escalation Battle has begun and will run until February 14th 2017. It gives access to the Latiasite at Level 50
Next, a Special stage for Virizion has begun and will run until February 7th 2017
Next, the special Daily Pokémon for Winking Pokémon stage has begun a repeat run. It runs through Torchic (Winking), Treecko (Winking), Mudkip (Winking), Castform (Winking) and Pikachu (Sleeping) until February 13th 2017
Finally, the Bellossom stage has begun a repeat run until February 14th 2017
In addition to this, several Pokémon have obtained new Skills through the Skill Swapper and new level increases with Raise Max Levels. 2 Raise Max Level and Skill Swappers are being given , as are two Jewels to celebrate Pokémon Shuffle's second anniversary

All of these require the version 1.3.36 to download. Our Pokémon listings have been updated with these Pokémon