Shopping
Like most free to play games, Pokémon UNITE has a variety of shops to spend your game currency within. These give different options for purchases including clothing, Unite Licenses and Holowear.
There are multiple currencies in the game including various tickets and Aeos Coins that you get via gameplay, or Gems which can be obtained through gameplay, events or by purchasing
UBC
The first shop is the UBC. This shop allows for you to purchase licenses to use various Pokémon in UNITE Battles. These are all purchased using two different currencies. You can either purchase them using the Aeon Coins obtained by winning battles, or through paid Gems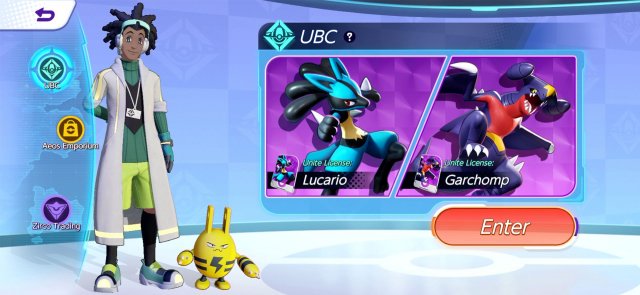 Aeos Emporium
The second shop is the Aeos Emporium and has three different options for products to purchase. The first option is standard clothing purchased either with Gems or with Aeos Tickets, with there often being a discount
The second option is the purchase of Hold Items for use in battle. In addition to that, there are other items to buy including Item Power Ups, an item to change your name and items that temporarily boost your Battle Points or Aeos Coins earned from playing matches.
Finally, there are some Fashion Ticket items, only available using Fashion Tickets, which are obtained from events, Missions or Gacha.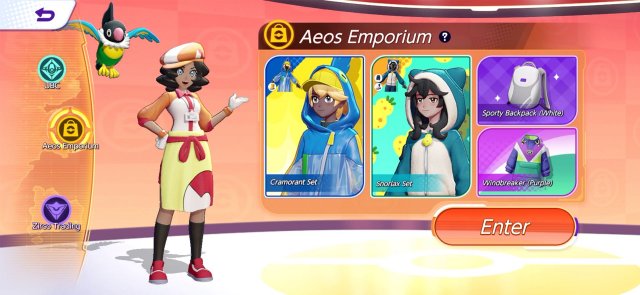 Zirco Trading
The final shop is the Holowear. This is purchased with Gems primarily, but there is also a section to purchase Holowear utilising special HoloWear ticket, which is obtained .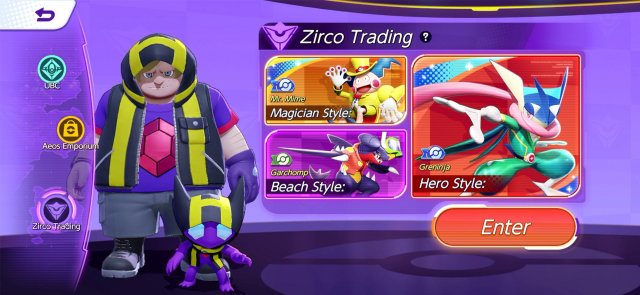 List of Currencies In-Game
| | | |
| --- | --- | --- |
| Picture | Name | Obaining Method |
| | Aeos Coin | Complete battles - Note, yield can be increased with Aeon Coin Burst Cards |
| | Aeos Ticket | Reward for completing Missions, Events, Battle Pass targets |
| | Fashion Ticket | Reward for completing Missions, Events, Battle Pass targets |
| | Holowear Ticket | Reward for completing Missions, Events, Battle Pass targets |
| | Gem | Event rewards, Purchase with money as microtransaction |
Aeos Gems
Aeos Gems are the main currency in the game and are the ones you can purchase using real money. These often have special bonuses such as getting double for the first time, and other bundles give extra Gems than they would normally at that price
Players can set a monthly spending limit based on their age so they do not over spend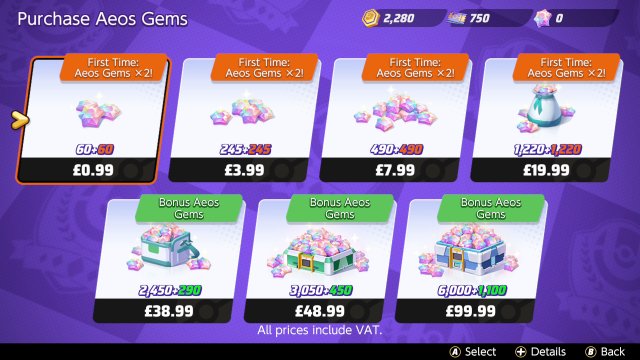 List of Microtransaction Bundles
| | | | | |
| --- | --- | --- | --- | --- |
| 60 Gems | $0.99 | Ł0.99 | €1.09 | ¥ |
| 245 Gems | $3.99 | Ł3.99 | €4.49 | ¥ |
| 490 Gems | $7.99 | Ł7.99 | €8.99 | ¥ |
| 1220 Gems | $19.99 | Ł19.99 | €21.99 | ¥ |
| 2740 Gems | $39.99 | Ł38.99 | €43.99 | ¥ |
| 3500 Gems | $49.99 | Ł48.99 | €54.99 | ¥ |
| 7100 Gems | $99.99 | Ł99.99 | €109.99 | ¥ |