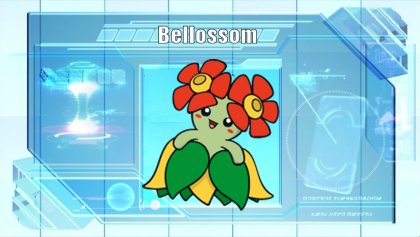 Bellossom, The Flower Pokémon. Bellossom gather at times and seem to dance. They say that the dance is a ritual to summon the sun. When the heavy rainfall season ends, it is drawn out by warm sunlight to dance in the open. When Bellossom gets exposed to plenty of sunlight, the leaves ringing its body begin to spin around. This Pokémon's dancing is renowned in the southern lands. A Bellossom grows flowers more beautifully if it has evolved from a smelly Gloom-the more stinky the better. At night, this Pokémon closes its petals and goes to sleep.
Overview
It was 1999 and the second movie had just come out in Japan. In it, there was a mysterious flower Pokémon dancing around. Come Gold & Silver's release, it was discovered that this was an alternate evolution to Gloom! It's also one of only a few Pokémon to completely lose a type on evolution. Unfortunately, that's where the coolness ends for this dancing Pokémon. Bellossom is just unfortunately not very good. Everything it can do, so many other things can do so much better. It's quite unfortunate that it can't really excel. It's the epitome of a mediocre Pokémon, and with it being pure Grass-type, it's just wide open to so many of the common attacks that exist
Positives
+Its bulk of 75/90/100 is passable
+It has a sufficient movepool
+Chlorophyll with its Speed does make it pretty fast
+Erm, look at Moe dance. Aloha Moe!

Negatives
-Pure Grass-type is probably the worst type in the current metagame. Having weaknesses to many common types of Fire, Flying, Ice, Bug and Poison, it'll fall down easily
-Its Speed is terrible. Base 50 isn't the best. While it could run well in a Trick Room, it's not ideal at all
-Its offensive stats are mediocre at best
-Its highest base stat is 100. Yeesh
Abilities
Chlorophyll: When sunny, the Pokémon's Speed doubles. However, Speed will not double on the turn weather becomes Strong Sunlight. - This does bring Bellossom's Speed up to passable levels, but it has a massive drawback. It's much better on other Pokémon Hidden Ability (Available):
Healer: At the end of the turn, there is a 30% chance of either Ally being healed from a status condition - Only really usable in Doubles & Triples. With the dominance of Dark Void in Doubles at the moment, this could actually be beneficial.
Movesets
Shao me your Moves!
-Solar Beam
-Sleep Powder
-Hidden Power Fire
-Moonblast
Item Attached: Life Orb
Ability: Chlorophyll
EVs and Nature:
EVs: 252 SpA /252 Spe / 4 HP
Modest Nature
Let's face it. If you're going to use Bellossom, you'll be having some sort of Sun support. As such, Bellossom can rely on that sun to make it somewhat usable. With the Sun, Solar Beam requires no turn charge, and with STAB and Bellossom's 90 Special Attack means that chances are it will hit its opponent hard. You have Sleep Powder to put the opponent to sleep, allowing you to put in some further hits. Hidden Power Fire is a great choice because it gets the boost from the sun and finally Moonblast is a great new option in Gen VI for Bellossom as it gives decent coverage and just works really well.
You'll want to invest strongly in both Special Attack and Speed in the EVs. Bellossom is not a fast Pokémon so giving it all you can, and then having it doubled in Sun makes it somewhat fast and usable. It will really help you in many ways. The Special Attack is natural for a sweeping set so going Modest is the safest bet
Other Options
-While Bellossom is particularly Special Attack focused, you can go physical with moves like Seed Bomb, Leaf Blade and Drain Punch to stun your opponent who may be expecting other things, boosting with Swords Dance.
-Energy Ball is a decent STAB option if you're trying to steer away from Sun support
-Giga Drain is a good option to do decent STAB damage and heal Bellossom in the process
-Sludge Bomb provides decent coverage
-Stun Spore can be a decent status option over Sleep Powder, bringing an opponent's Speed down to close to Bellossom's levels
-Sunny Day may be an option to give on Bellossom itself to let it set itself up, but by doing so it does give the opponent a free shot at it.
-Synthesis/Moonlight is a great way to recover health on Bellossom, especially if Sun is in effect.
-Teeter Dance is a decent option, especially in Doubles/Triples as it will confuse all nearby Pokémon. This is always frustrating for any player so don't be afraid to go for it.
Countering Bellossom
Talonflame. No, really. With Gale Wings for the Flying-type moves and the fact it's fast with the Fire-type moves, and is physically focused, it can typically 2HKO, if not OHKO Bellossom with very little issues. Bellossom is a defensive Pokémon, so it does need you to chip away at those defences, but it won't take long due to the myriad of weaknesses that exist for Grass-types. Bulky Pokémon will typically be good to absorb hits from Bellossom too, as Bellossom's Special Attack and Attack stats are not the best, by providing a bulky opponent to it, you'll be able to take the hits and attack it until it is down. Bellossom isn't the best. It can't do much, so just going in with a lot of raw power and any of the five super effective types will likely give you the win.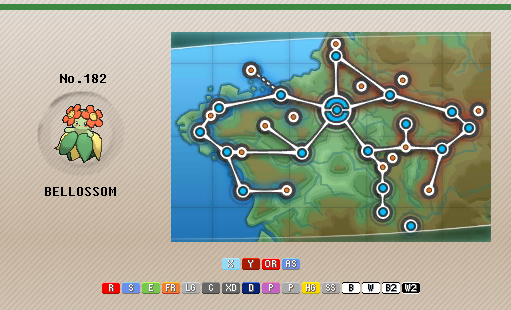 Locations in Games
Ruby/Sapphire/Emerald:
Evolve Gloom
FireRed/LeafGreen:
Evolve Gloom (FireRed)
Trade from Ruby, Sapphire, Emerald or FireRed (LeafGreen)
Colosseum/XD:
Trade from Ruby, Sapphire, Emerald or FireRed
Diamond/Pearl/Platinum:
Evolve Gloom
HeartGold/SoulSilver:
Evolve Gloom
Black/White:
Evolve Gloom (White)
Trade from White (Black)
Black 2/White 2:
Trade from White
X/Y:
Evolve Gloom
Omega Ruby/Alpha Sapphire:
Evolve Gloom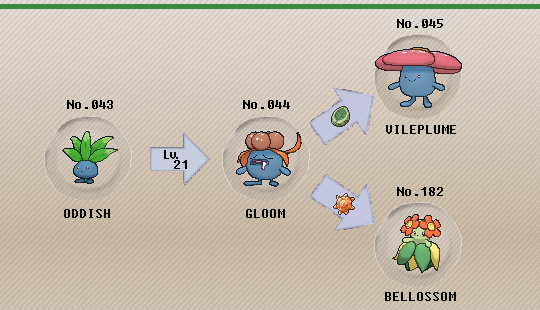 Animé Appearences
| | |
| --- | --- |
| Bellossom has made a few appearances in the anime. Most of these, however, have been cameos. | |