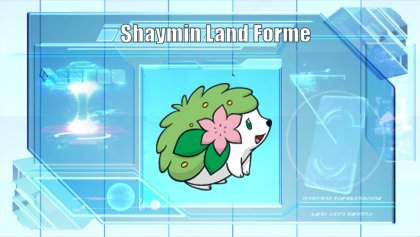 Shaymin, The Gratitude Pokémon. It can dissolve toxins in the air to instantly transform ruined land into a lush field of flowers. The blooming of Gracidea flowers confers the power of flight upon it. Feelings of gratitude are the message it delivers.
Overview
Gen 4 introduced a lot of mythical Pokemon. The literal god of Pokemon, Arceus. The nightmare-inducing Darkrai. The pixie of the Sea, Manaphy. And of course… the floral hedgehog, Shaymin! However, unlike the other three mythical Pokemon of Gen 4, Shaymin seemed to have the least competitive impact. It's not to say that Shaymin is a bad Pokemon; far from it actually. It's certainly got solid bulk with the standard 100/100/100 defenses, while things like Natural Cure, Rest, and Leech Seed help keep it healthy, meaning it can be hard to wear down. Not only that, but its signature move, Seed Flare, sports a dastardly 40% chance to lower special defense. However, as is often the case with mythical Pokemon sporting the 100 base stats across the board, this tends to make it somewhat limited offensively. A rather shallow offensive movepool is a hindrance as well, and grass typing is as always a mixed bag. As a result, while a decent Pokemon, it certainly wasn't the most impactful… until shortly thereafter, Platinum came along and gave Shaymin an alternate form! However, the two function completely differently and thus are treated as different Pokemon entirely. While the Sky Form soared, the Land Form was left to struggle. That said, although not quite as dominant as some of the other Mythical Pokemon or its own Sky Form, Land Form Shaymin is still able to fill both offensive and defensive roles thanks to its well rounded stats and precise movepool.
Positives
+Base 100 in every stat makes it well rounded, so there are no glaring weak spots in its stat spreads. This is especially true of its bulk; 100/100/100 defenses are solid, and make it hard to 1HKO, especially with no 4x weakness.
+Grass typing does carry with it some useful resistances to Water, Grass, Electric, and Ground.
+Natural Cure is a great ability that allows Shaymin to absorb status and then recover from it upon switching out. Works great with Rest, too!
+Shamin's movepool has enough toys to work with. Offensively it's got a great signature move in Seed Flare, while also having Air Slash, Earth Power, and Psychic as viable coverage options. It's also got great support options with Tailwind, Leech Seed, Aromatherapy, and Healing Wish.

Negatives
-Base 100 offenses leave a bit to be desired, as the changing generations have caused a power creep which makes base 100 look low in comparison.
-Grass typing may have useful resistances, but it also has abundant weaknesses to Fire, Ice, Flying, Bug, and Poison, making it easy to hit for super-effective damage.
-Competition amongst grass types is high; both Celebi and Roserade give Shaymin competition, due to the former having Baton Pass and Nasty Plot, while the latter has access to Sleep Powder and Spikes. Both have a useful secondary STAB as well.
-Due to being a "Mythical" Pokemon, it's unusable in most Nintendo formats.
Abilities
Natural Cure: The Pokémon's status (BURN, PARALYZE, SLEEP, POISON, FREEZE) is healed when withdrawn from battle. - As Shaymin's only ability, it goes without saying that you'll be using Natural Cure. Fortunately, Natural Cure is a great ability! Status is literally everywhere, so the ability to remove status effects from yourself simply by switching is indeed a blessing. This can prevent Toxic stalling, allow Shaymin to absorb status, and with its water resistance, it makes Shaymin one of the few Pokemon to not be bothered much by Scald. Natural Cure has plenty of usefulness, which is good considering you have no choice but to use it.
Movesets
Seeds of Destruction
-Seed Flare
-Psychic / Air Slash
-Earth Power / Dazzling Gleam
-Healing Wish
Item Attached: Choice Specs / Life Orb
Ability: Natural Cure
EVs and Nature:
EVs: 252 SpAtk / 4 SpDef / 252 Spe
Timid Nature
Although base 100 Special Attack leaves a bit to be desired by today's standards, Shaymin still has all the tools it needs to run a potent offensive set. The crux of this set is Shaymin's signature move; Seed Flare. Base 120 power with a passable base 85% accuracy would be good on its own, but Seed Flare also sports a devastating 40% chance to lower special defense by two stages. Even things that resist Seed Flare will be taking heavy damage once you hit them with -2 Special Defense. From there, Shaymin has a few coverage options at its disposal. Psychic is potent for its ability to hit things such as Crobat, Roserade, Chesnaught, Toxicroak and Heracross hard. However, Air Slash is an option to hit Heracross and Chesnaught harder, in addition to dealing better with things like Celebi, Mega Sceptile, and opposing Shaymin. Earth Power works best on the next slot, hitting the numerous Fire types that Shaymin outspeeds, such as Darmanitan, Arcanine, and Chandelure, in addition to dealing well with steel types such as Metagross and Doublade. However, Dazzling Gleam is an option to deal with dragons such as Salamence, Mega Sceptile, and Hydreigon, in addition to helping against Mandibuzz. Finally, Healing Wish may seem atypical on an offensive set, but it allows Shaymin to go out with a bang… so to speak. If Shaymin is low on HP and its fainting is inevitable, it can utilize Healing Wish to give another Pokemon on your team a new lease on life, fully restoring it when it switches in.
Timid Nature and 252 Speed EVs ensure that Shaymin maximizes its speed. 252 Special Attack EVs ensures it hits as hard as possible, while the remaining 4 EVs are put into Special Defense. Shaymin has two viable choices for items; Choice Specs and Life Orb. Choice Specs allows Shaymin to hit profoundly hard, but at the cost of being locked into its attacks, which can be detrimental as none of its attacks have fantastic neutral coverage on their own. Life Orb affords you the opportunity to switch attacks, but at the cost of being weaker than Choice Specs, and stripping Shaymin of 10% of its HP per attack. EIther one is viable and largely depends on personal preference.
Seeds of Life
-Leech Seed
-Substitute / Protect
-Seed Flare
-Psychic / Air Slash
Item Attached: Leftovers
Ability: Natural Cure
EVs and Nature:
EVs: 252 SpAtk / 4 SpDef / 252 Spe
Timid Nature
All out offense isn't Shaymin's only trick. With its solid bulk, it takes perfect advantage of Leech Seed. If your opponent is not a Grass type, then Leech Seed is going to be a nuisance to them, which in turn also forces switches. Then, Shaymin has a choice of either Substitute or Protect. Substitute works well with Leech Seed, forming the "SubSeed" strategy, in which case the turns spent breaking Substitutes afford Leech Seed turns to work its magic, while Leech Seed restores the HP spent on making a Substitute. Protect is a little more straight forward; it can simply buy a free turn for Leech Seed to tick, while also scouting attacks. However, do note that Protect an effectively "waste" a turn if your foe sets up or switches, while Substitute accomplishes a little more in those instances. Of course, even with Leech Seed, you do need to maintain some offensive presence, and in that case, Seed Flare remains Shaymin's most potent STAB attack. The choice of Psychic or Air Slash remains largely the same as well. Psychic hits Poison types harder, while Air Slash hits opposing Grass types harder.
Despite the addition of Leech Seed, the EVs remain largely the same. 252 Speed EVs and a Timid Nature allows Shaymin to outspeed things that would otherwise threaten it, such as Darmanitan, Chandelure, and so on. By catching them on the switch with Leech Seed and outspeeding them to set up a Substitute, you can manage to force them out by virtue of the fact that they'll just keep hitting your Substitute while Leech Seed ticks away. 252 Special Attack EVs ensure that your offensive attacks hit as hard as possible as well. Meanwhile, Leftovers helps extend Shaymin's longevity.
Other Options
-Aromatherapy can be used to give Shaymin a more supportive role, and keep status from crippling its teammates.
-Rest can fully heal Shaymin, and with Natural Cure, it's able to rid itself of the sleep status as well. However, it does force you to switch, since you'll be stuck sleeping for two turns otherwise, so it can rob your team of momentum.
-Synthesis is another means of self-healing without forcing yourself to switch out. The downside, however, is that the use of weather can hinder this move's potency.
-Shaymin does have access to Swords Dance, along with Seed Bomb and Zen Headbutt if you want to surprise some specially bulky Pokemon, but the limited coverage and inferior STAB option makes it kind of a gimmick.
-Hidden Power is always an option if you want to cover specific threats, such as Hidden Power Bug for Celebi or Hidden Power Ice for Salamence, but in general Hidden Power is more niche than any of its other coverage moves.
Countering Shaymin
ShayShaymin can be a little tricky to counter, as many of its checks and counters are set dependent. Crobat can wall any set lacking Psychic (as Choice Specs Air Slash 3HKOs) and 1HKO with Brave Bird on offensive sets, but Choice Specs Psychic can threaten to 1HKO Crobat, while also 2HKOing defensive sets (which in turn 2HKO with Brave Bird). Fire types such as Darmanitan, Arcanine, and Chandelure all get 1HKO'ed by Earth Power and are outsped, but for sets lacking Earth Power, they can avoid the 1HKO from any other move (although Seed Flare's raw power can 2HKO on a Specs set) and 1HKO back with their Fire STAB attacks. Chandelure and Darmanitan get special mention with their Scarf sets allowing them to flip speed tiers on their heads and be an effective check to Shaymin. Infernape naturally outspeeds Shaymin and can 1HKO it with a Fire STAB, but it has to be wary of Earth Power, Air Slash, and Psychic, so it absolutely cannot switch in. Rotom-H gets a special mention due to being immune to Earth Power, and although a Spec'ed Seed Flare can 2HKO, it can soundly 1HKO Shaymin with Overheat, and its Scarf set outspeeds Shaymin. Entei of course fears Earth Power, but without Earth Power it's only 3HKO'ed by the Specs set and soundly 1HKOs in return. Mega Beedrill can beat Shaymin 1v1 by utilizing Protect to get the Mega speed tier, and then destroying Shaymin with Adaptability STAB attacks, although it in turn gets destroyed by Shaymin's Air Slash or Psychic due to its frailty. Moltres is only 3HKO'ed by Choice Specs Psychic (although watch out for Stealth Rock), and can 1HKO Shaymin with Fire Blast or Hurricane, and is able to Roost off any damage taken. Noivern hates Dazzling Gleam, but can switch into just about anything else, and then outspeed and 1HKO Shaymin with Hurricane; plus, thanks to Infiltrator it can put a stop to any attempts at SubSeed. Special walls such as Mandiuzz and Blissey can temporarily put a stop to Shaymin, but it should be noted that their main methods of wearing foes down, Toxic, isn't all that effective thanks to Natural Cure. Plus, repeated Seed Flares with its Special Defense drops can wear them down, as can Leech Seed, so be aware. Bronzong has no trouble walling Shaymin due to Levitate protecting it from Earth Power, but much like Blissey and Mandibuzz, Toxic stalling can only get you so far thanks to Natural Cure… although Gyro Ball is capable of 3HKOing. Just watch out for Leech Seed, again.
In more inclusive formats, Shaymin can run into more issues. Mega Pigdeot outspeeds and destroys Shaymin with Hurricane, and Shaymin can't 1HKO it with any attack (although Spec'ed attacks can 2HKO). The infamous Talonflame can put a stop to Shaymin's lifespan in a hurry with its priority Brave Bird, and it 4x resists Shaymin's STAB. Likewise, Mega Charizard Y sports the same resistances but with better special bulk, and can fry Shaymin with a Drought-boosted Fire Blast. Scizor and Mega Scizor don't fear anything except the rare Hidden Power Fire, and can smack Shaymin hard with a powerful U-Turn. Mega Pinsir doesn't appreciate Air Slash, but it can otherwise resist Shaymin's STAB and is immune to Earth Power, while it mutilates Shaymin with a powerful Aerilate Return. Heatran shuts down sets lacking Earth Power, but Leech Seed can be a bit of a nuisance. Gengar can't reliably switch in due to Psychic, but Gengar outspeeds Shaymin and destroys it with Sludge Wave. Tornadus-T can utilize its Assault Vest set to wall Shaymin, while also healing off any HP lost with Regenerator, and 2HKOing (with a low chance to 1HKO) with Hurricane. Ultimately, although Shaymin's Seed Flare can be a nuisance, many things can 1HKO or 2HKO it with powerful Fire, Flying, Ice, Bug or Poison types attacks, since Shaymin's many weaknesses are easy to prey on.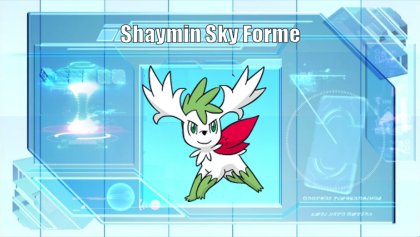 Overview
Often times, after their initial release, some Pokemon get something that gives them a new lease on life. Mega Evolutions in XY and ORAS. White and Black Kyurem in Black 2 and White 2. Giratina's Origin Form in Platinum. And of course… Shaymin's Sky Form in Platinum. Much like these other forms, Shaymin's Sky Form is quite viable, and is much more so than its land form. Shaymin's Sky Form traded some of its bulk to increase its speed and special attack, so now it sports a solid base 120 special attack and a fantastic base 127 speed. This would be pretty good on its own, but were the good folks at Gamefreak content at leaving it at that? Heavens no. Instead, they decided to give Shaymin Sky one of the most dastardly abilities in the game; Serene Grace. This means the normally annoying Air Slash and its 30% flinch rate turns into a diabolical 60% flinch chance. In addition, Seed Flare's already good 40% chance of a -2 Special Defense drop turns into an almost guaranteed 80% chance. This means that Shaymin's Sky Form can be a major nuisance with its ability to "permaflinch" and force switches due to those harsh special defense drops. However, all is not well for Shaymin's Sky Form. All that power and speed came at a cost; its 100/75/75 defenses leave a lot to be desires, so it's not too hard to KO. In addition, its typing is shaky at best; although it does sport an immunity to Ground, it comes at the cost of a Rock weakness that lets Stealth Rock strip it of 25% of its HP, and a 4x Ice Weakness can be detrimental as well. Still, Shaymin's Sky Form's combination of high speed and great ability can make it a potent disruptive force on the battlefield.
Positives
+Base 127 speed is fantastic, and lets it outspeed things like Arceus, Darkrai, and Mega Salamence.
+Base 120 special attack gives it a little more offensive potency than its Land Form.
+Serene Grace is an amazingly annoying ability. 60% Flinches on Air Slash and 80% -2 Special Defense Drops on Seed Flare are outright nasty.
+Shaymin's Sky Form has the same movepool as its Land Form, so it's still got all those gems such as Psychic, Earth Power, Healing Wish, Leech Seed, and more.
+Immunities to Earthquake (along with grounded hazards) and resistances to Fighting, Grass, and Water are useful to have.

Negatives
-100/75/75 defenses aren't exactly sturdy. Don't expect this thing to take repeated neutral hits. -Its offenses may be better, but considering it has to tangle with things like Lugia, Ho-Oh, and the Primals, it relies heavily on super-effective hits to do damage as its special attack has suffered from the power creep over the generations. -Its typing brings some unfortunate weaknesses. A 4x weakness to Ice is the most obvious, while the 2x weakness to Rock brings with it a nasty Stealth Rock weakness, and its Fire, Poison, and Flying weaknesses can all be exploited easily as well. -Some of Shaymin's Sky Form's effectiveness relies heavily on luck. Air Slash may have a 60% chance to Flinch, but if that fails you, it usually won't last long. -It's still Mythical, so it still can't be used in most Nintendo formats.
-It also can't be placed in the Battle Box. When it does, it reverts.
Abilities
Serene Grace: The chances of a move having a secondary effect is doubled. - In terms of annoying abilities, Serene Grace ranks up there as arguably one of the most annoying. Doubling the chance for secondary effects to activate can cause certain moves with high base activation chance to activate the majority of the time. And fortunately for Shaymin's Sky Form, it has two attacks with high base activation chances that take fantastic advantage of this ability. Air Slash suddenly becomes a 60% chance to Flinch, and Seed Flare suddenly becomes an 80% chance to harshly drop special defense. What this obviously means is that you're actually statistically more likely to have these activate than not. With a little luck, Shaymin can be annoyingly effective as a disruptive force. There's nothing that makes people rage as much as a seemingly endless string of flinches.
Movesets
There's no Shaymin a Little Luck
-Air Slash
-Seed Flare
-Hidden Power Ice / Hidden Power Rock
-Healing Wish
Item Attached: Choice Scarf / Life Orb
Ability: Serene Grace
EVs and Nature:
EVs: 4 Def / 252 SpAtk / 252 Spe
Timid Nature
With its high speed, it shouldn't take long to figure out that Shaymin-Sky runs an impressive offensive set. The crux of this set is combing Shaymin-Sky's high speed and Air Slash, whose dastardly 60% Flinch Rate thanks to Serene Grace can often leave slower foes at the mercy of luck, lest they end up "Permaflinched". On the flip side, Seed Flare's 80% chance to inflict a -2 Special Defense drop means that it can punch giant holes into things that try to tank them. Shaymin-Sky often utilizes Hidden Power for coverage, and usually for two very specific threats. Hidden Power Ice is most notable for destroying Mega Salamence, especially since Shaymin-Sky can outspeed it, and with a Scarf this persists even at +1. Meanwhile, Hidden Power Rock can 2HKO Ho-Oh, or if Stealth Rock is up, it can 1HKO Ho-Oh. Which Hidden Power you opt for depends on which threatens your team more. Finally, when you're done with Shaymin-Sky and no longer need it, or if it's weakened and cannot escape being KO'ed, Healing Wish is an option to sacrifice itself in order to heal another Pokemon on your team that switches in.
It should go without saying that Timid Nature and 252 Speed EVs are mandatory for maximizing Shaymin-Sky's speed, since you can't flinch something faster than you. 252 Special Attack EVs ensure you hit as hard as possible, and the remaining 4 EVs are dumped into Defense. While Shaymin-Sky has two viable item choices for an offensive set, it is important to know that if you use a Choice Scarf, you usually want to use Hidden Power Ice along with it. This is because Choice Scarf allows Shaymin-Sky to revenge kill Mega Salamence, even at +1. In addition, without a Life Orb, Hidden Power Rock fails to 2HKO Ho-Oh (although it can 2HKO with Stealth Rock up). As a result, utilize Life Orb if you want Shaymin-Sky to be better able to wallbreak and take down Ho-Oh, while you can utilize Choice Scarf if you want it to be able to revenge kill and late game clean more efficiently.
Norman Seed-Us
-Leech Seed
-Substitute
-Air Slash
-Seed Flare
Item Attached: Leftovers
Ability: Serene Grace
EVs and Nature:
EVs: 44 HP / 212 SpAtk / 252 Spe
Timid Nature
With the unholy trinity of Leech Seed, Substitute, and high speed, it should go without saying that Shaymin-Sky has everything it needs to run an effective SubSeed set. The premise is very simple. Normally on a forced switch, Shaymin-Sky can set up a Substitute or inflict Leech Seed upon the opponent (assuming they're not a grass type). Following this, whatever was not done the previous turn can be done the next turn; thus, the goal is to have your foe Seeded, but also have a Substitute set up each turn. Thus, each turn that they break the Substitute (thus limiting you to taking no more than 25% of your HP per turn), you put up a new Substitute, and Leech Seed helps heal back the HP you spend to make said Substitute. It's quite the charming little pattern, and one that can be infuriating to play against. This is especially true if you can manage to keep a Substitute up, and start wearing down your foes with Air Slash and its 60% Flinch Rate; this can force a lot of switches to get rid of the Leech Seed, as the combination of Flinches and Leech Seed can wear things down with little room to retaliate. Air Slash is also a nice deterrent for any Grass types who think themselves safe from Leech Seed. Finally, Seed Flare remains a great way to punch giant holes in things with its high base power and 80% chance to harshly drop special defense.
252 Speed EVs and Timid Nature continues to go without saying. Shaymin-Sky lives and dies by its speed, so it needs to be maxed. 44 HP EVs adds a little bit of bulk, while also maximizing Leftovers recovery, while the rest of the EVs are put into special attack to ensure Shaymin-Sky hits as hard as it can. And speaking of the aforementioned Leftovers, they're the item of choice to ensure Shaymin-Sky's HP stays up to make more Substitutes.
Other Options
-Earth Power is an option to hit Dialga, Klefki, and Aegislash a little harder, but you do miss out on both Mega Salamence and Ho-Oh. It's also worth noting that despite the super-effective damage, Earth Power is not all that effective against Primal Groudon, as a neutral Seed Flare hits it just as hard.
-Hidden Power Fire is also an option that's almost exclusively used to fry Scizor and Ferrothorn.
-Dazzling Gleam can hit the myriad of Dragon and Dark types for super-effective damage, but doesn't add too much in the way of neutral coverage.
-Aromatherapy can be an option to provide Team Support if status is a nuisance to you.
-Tailwind is another option for team support and can allow Shaymin to outspeed and pester a few Pokemon that would otherwise outspeed it, but the short duration is problematic.
Countering Mega Shaymin
I hope you've got good karma, because often times dealing with Shaymin-Sky requires you to have a bit of luck on your side, because even the perfect counter can be undone by a string of flinches. The most obvious answer to Shaymin-Sky based on its typing would be steel types, given they resist both Grass and Flying. Diagla resists both of Shaymin-Sky's STAB attacks and only fears the uncommon Earth Power, while it can 1HKO with Fire Blast or Draco Meteor. If Shaymin-Sky tries to hide behind a Substitute, then Dialga can just use Roar to switch it out, which in turn causes it to waste the HP on the Substitute for nothing. Aegislash has the bulk to stomach any attack in Shield Form, and Gyro Ball hits back hard due to the discrepancy in speed. Mega Scizor can take a few hits from Shaymin-Sky lacking Hidden Power Fire (although Life Orb Air Slash can take a sizeable chunk of HP off of it, enough to have a low chance to 2HKO), while Bullet Punch can 2HKO after Life Orb recoil or Stealth Rock damage, and also allow it to bypass the flinch chances thanks to its priority. Genesect can take heavy damage from Life Orb Air Slash, but its Ice Beam soundly 1HKOs Shaymin-Sky, especially if it utilizes Choice Scarf to outspeed Shaymin-Sky (just watch out for Shaymin-Sky's own Scarf). Ho-Oh makes a solid answer to Shaymin-Sky due to its high Special Defense and 4x resistance to Seed Flare, but Life Orb Hidden Power can 2HKO it, and if Stealth Rock is up, all bets are off. That said, Ho-Oh can mutilate Shaymin-S with a powerful Brave Bird or Sacred Fire. Mega Gengar is noteworthy if you have Shaymin-Sky problems, as it can trap, outspeed, and 1HKO Shaymin-Sky with Sludge Wave. However, it needs to already be Mega Evolved for this to work successfully, as the base form is outsped. Lugia's profound bulk and Multiscale can help it weather Shaymin-Sky's assaults, and it can either Toxic Shaymin-S so that it wears itself down, or smack it with a 4x super effective Ice Beam, which even uninvested has a chance (albeit a low one) to 1HKO. Although Shaymin-S is fast, there are a few things that outspeed it and 1HKO it. Most notably, Mewtwo and Deoxys-A outspeeds Shaymin and can 1HKO it with Ice Beam, but they both have to be wary of Scarf sets flipping speed tiers on their heads. It's also worth mentioning that Shaymin-Sky's flinching requires it to outspeed you; as a result, priority can circumvent attempts to flinch. Arceus's Extreme Speed can do upwards of 70% damage, and will always 2HKO. Likewise, Rayquaza's Extreme Speed can do about 60% damage tops, while still being enough to 2HKO. Another handy way to circumvent flinching would be to paralyze Shaymin-Sky; the most obvious way to do that is with the troll known as Klefki, whose Prankster Thunder Wave will put a stop to Shaymin-Sky's reign of flinching. Finally, keeping Stealth Rock up is a good way to deal with Shaymin-Sky, as it will lose a quarter of its HP each time it switches in. At the end of the day tough, if you can hit Shaymin-Sky between flinches or when it's not behind a Substitute, expect it to take heavy damage, as it can be 2HKO'ed or even 1HKO'ed by almost anything in the game due to its poor bulk. It will never survive something like a Fire STAB from Primal Groudon or an Aerilate Return from Salamence, so if luck is not on its side with those Flinches, don't expect it to last long.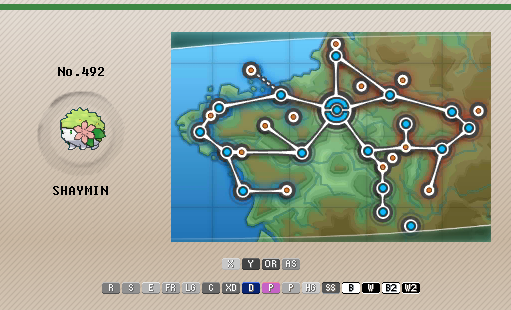 Locations in Games
Ruby/Sapphire/Emerald:
Not in game
FireRed/LeafGreen:
Not in game
Colosseum/XD:
Not in game
Diamond/Pearl/Platinum:
Flower Paradise
HeartGold/SoulSilver:
Trade from Diamond/Pearl/Platinum
Event
Black/White:
Event
Black 2/White 2:
Event
X/Y:
Event
Omega Ruby/Alpha Sapphire:
Event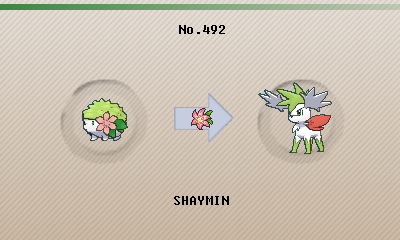 Animé Appearences
| | |
| --- | --- |
| Shaymin has made a few appearances in the anime. In the appearances, it has been needing to transform into Sky Forme. | |