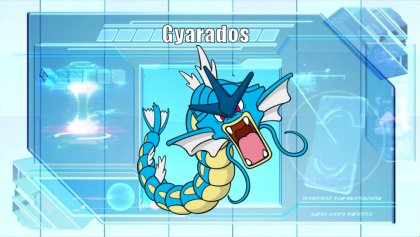 Gyarados, the Atrocious Pokémon. It has an extremely aggressive nature. The Hyper Beam it shoots from its mouth totally incinerates all targets. Once it begins to rampage, a Gyarados will burn everything down, even in a harsh storm. Once Gyarados appears, its rage never settles until the Pokémon has razed the fields and mountains around it. In ancient literature, there is a record of a Gyarados that razed a village when violence flared. I suspect this Pokémon to be the true identity of a dragon written of in ancient texts, which claimed that it razed an entire village with white-hot beams from its maw.
Overview
Gyarados returns as one of the best singles Pokémon in the game. Phenomenal typing, fantastic abilities that enable setup or snowballing, and a wide movepool to strike every Pokémon under the sun all come together in a devastating package. The generational changes almost seem to be going out of their way to improve Gyarados. Moxie and Max Airstream synergize disgustingly well, enabling Gyarados to effectively Dragon Dance while attacking with a devastatingly strong STAB attack. Power Whip being added to its movepool gives Gyarados a long awaited answer against the Water types that could wall it in the past. Heavy Duty Boots removes Gyarados' Stealth Rock issues, enabling more flexible pivoting giving Gyarados more use throughout a battle.
However, Gyarados has very real and significant flaws. A quadruple weakness to Electric is crippling, and downright fatal considering the prominence of Regieleki who reliably outspeeds and OHKOs. Gyarados' Speed is underwhelming before being boosted and can easily be outsped and forced out by Choice Scarfers if Gyarados has only nabbed a single speed boost. And multiple boosts are required to muscle through traditional walls like Ferrothorn and Skarmory who can undo all of Gyarados' work in a blink, and thus have Gyarados too compromised for another attempt at a sweep. Nonetheless, Gyarados is feared for good reason and holds a strong place in battle both past, present and for the foreseeable future.
Positives
Base 125 Attack and excellent boosting options in Dragon Dance and Moxie make Gyarados a fearsome attacker.
Excellent Abilities in Intimidate enabling setup or Moxie enabling out of control escalation.
Expansive movepool gives Gyarados an answer for almost every situation.
Fearsome Dynamax Abuser with STAB Max Airstream and Moxie enabling Gyarados to completely run away with battles.

Negatives
Quadruple Electric weakness is downright destructive, enabling anything with Electric coverage to maim if not outright knock out Gyarados
Base 81 Speed, while decent, is unimpressive without boosting, leaving Gyarados prey to many of the faster attackers running around.
Bounce is the only Physical STAB Flying move
Movesets
Jörmungandr
-Waterfall
-Bounce
-Earthquake
-Power Whip
Ability: Moxie
Item: Choice Band
EVs and Nature:
4 HP / 252 Atk / 252 Spe
Jolly Nature
This set revolves around abusing Dynamax to enable Gyarados to escalate out of control and then used the accrued boosts plus Choice Band to close out the game. However, Gyarados does not need to Dynamax right away. Its power with Choice Band is great and can easily nab a KO without Dynamaxing to get an early Moxie boost before going off to the races with Dynamax. Aside from STABs, Earthquake is valuable in covering opposing Electric and Steel types that resist Gyarados' Flying STAB and often carry the Super Effective coverage that necessitate a One Hit KO. Power Whip completes the set, covering Water types like Rotom Wash that don't mind either of Gyarados' STABs or Earthquake.
DYNAMAX:
Dynamaxing Gyarados is the star of the show. Bounce Max Airstream is ludicrously efficient, having a Base 130 STAB attack that gives a Dragon Dance Boost escalates out of hand stupidly quickly. Waterfall becoming Max Geyser gives another 1.5 Boost to Gyarados' main STAB in and out of Dynamax while Max Quake boost's Gyarados' impressive Special Defense to startling new heights. Doubling Gyarados' already above average HP and breaking the Choice lock are almost afterthoughts. Gyarados snowballs out of control so quickly it can near guarantee the result of a match the second it gets an itch..
EVs and Items:
Standard Sweeper Array to get the most out of Max Airstream and Moxie. Jolly nature is mandatory -Gyarados' speed is below average and it needs all the speed it can get to outspeed the numerous faster targets post boosting. While Adamant is nice, being outrun by Base 130 targets like Jolteon at +1 are not worth the risk. Choice Band is for maximum power out of Dynamax, to make it easier to nab KOs, though Life Orb can be considered for flexibility, Heavy Duty Boots to avoid being ravaged by Stealth Rock, Mystic Water to boost up the ever reliable Waterfall without drawback, etc..
Partners:
Anything that can exploit Electric Attacks makes for a great Gyarados partner. Gyarados attracts Electric Attacks like how honey attracts bears, so having a reliable partner that can cope with that weakpoint is greatly appreciated. Rhyperior stands out, having fantastic defense, also capable of pivoting into Rock attacks and in turn enjoys Gyarados checking the Water and Grass type attackers. Grass types also make for decent Gyarados partners, forming 2/3rds of a Water-Grass-Fire core, answering Rock types and Electric attacks. Tangrowth, Venusaur and Zarude can all take advantage of these traits while enjoying Gyarados checking Fire types.
Other Options:
Ice Fang -hits many Dragon types hard, but most are still hit hard by Max Airstream.
Fire Blast -can be a nasty surprise for Ferrothorn, and thus worth consideration, but is only a 2HKO and its lack of synergy is apparent.
Stone Edge -Gyarados' best option for Zapdos
Dance Water Serpent Dance
-Dragon Dance
-Waterfall
-Bounce
-Taunt
Ability: Intimidate
Item: Lum Berry
EVs and Nature:
4 HP / 252 Atk / 252 Spe
Jolly Nature
Dragon Dance Gyarados makes for an effective late game cleaner or mid game hole puncher. Intimidate synergizes with Intimidate, giving Gyarados more chances to net an attack boost before going on the assault. Bounce is a good secondary STAB. Even if it is two turns, the power is impressive and few non Electric types like pivoting into Bounce and take major damage plus the risk of Paralysis. Taunt rounds out the set, preventing conventional walls like Skarmory and the like from stalling/phasing Gyarados out and turning them into more setup fodder.
DYNAMAX:
This Gyarados is not as proficient at Dynamaxing but can still make a splash. Max Airstream is just as ridiculously potent as ever, providing further Speed boosts while nabbing knock outs and Max Geyser providing Rain enables further escalation. However, the lack of coverage leaves this suited only for emergencies and the late game where checks have been weakened or removed.
EVs and Items:
Standard Sweeper Array. You want as much speed and power as possible to get the most out of Dynamax. Gyarados is on the slow side, so the Speed Boosting Jolly is preferred. Lum Berry gives Gyarados more setup opportunities and enables it to eat a Scald or Toxic without being ruined before it can shutdown the opponent, though other options like Life Orb for more damage, Sitrus Berry to counteract any damage taken while setting up Dragon Dances, while Wacan Berry can punish predicted Electric attacks.
Partners:
Since Gyarados can't run all the coverage it wants, being able to cover Gyarados's gaps are more important. Grass types like Rillaboom, Venusaur and Ferrothorn all reliably answer the Water and Grass types that otherwise force Gyarados to retreat or boost excessively to muscle through. Nidoqueen and Nidoking can reliably pivot into Electric attacks and have wide special coverage to check and answer both Electric and Steel types along with dedicated physical walls.
Other Options:
Ice Fang -hits many Dragon types hard, but most are still hit hard by Max Airstream.
Fire Blast -can be a nasty surprise for Ferrothorn, and thus worth consideration, but is only a 2HKO and its lack of synergy is apparent.
Stone Edge -Gyarados' best option for Zapdos
Earthquake -covers Steel and Electric types like Magnezone and Dracozolt
Power Whip -covers Water types like Quagsire, Rotom-Wash and Swampert
Countering Gyarados
Faster Electric types make some of the most reliable checks to Gyarados around, easily revenge KOing it or forcing it out. Regieleki is particularly distressing, requiring two Speed boosts to outspeed, while OHKOing back with any Electric STAB. Tapu Koko, Jolteon and Zeraora also fill this niche quite well. Otherwise, answering Gyarados comes down to what moves it is missing.
Gyarados lacking Power Whip find themselves walled by Rotom Wash who can easily tank Gyarados STABs, OHKO it with Electric attacks or cripple it with Will O Wisp. Defensive Water types like Cloyster, and Lapras also prove problematic able to take a hit or three and OHKO with their own coverage/STAB.
Gyarados lacking Earthquake have difficulty pressuring Electric types as well as resilient Steel types like Magnezone, and Magearna, former being distressing when Gyarados needs that One Hit KO lest it receives the same.
Zapdos is consistently problematic, only fearing the rare Stone Edge, and able to tank even a boosted Waterfall and threatening a One Hit KO.
Tangrowth becomes problematic if Gyarados is missing Bounce, as Ice Fang does not do enough damage to compensate.
Other bulky walls like Umbreon, Mandibuzz, and Skarmory can all reliably tank boosted attacks and KO with Foul Play/phaze out with Whirlwind respectively though they in turn can be crippled by Taunt.
Locations in Games
Red/Blue/Yellow:
Fuchsia City (Yellow)
Evolve Magikarp (Red/Blue)
Gold/Silver/Crystal:
Lake of Rage, Fuchsia City
Ruby/Sapphire/Emerald:
Sootopolis City
FireRed/LeafGreen:
Routes 4, 6, 10, 11, 12, 13, 19, 20, 21 22, 23 & 25, Cerulean City, Cinnabar Island, Four Island, Fuchsia City, Lavender Town, One Island, Pallet Town, Viridian City, Berry Forest, Bond Bridge, Cape Brink, Cerulean Cave Floor 1 & Basement 1, Five Isle Meadow, Green Path, Icefall Cave Floor 1, Kindle Road, Memorial Pillar, Outcast Island, Resort Gorgeous, Ruin Valley, Safari Zone Areas 1, 2, 3 & Center, Seafoam Island Basements 3 & 4, S.S. Anne, Tanoby Ruins, Trainer Tower, Treasure Beach, Water Labyrinth, Water Path
Colosseum/XD:
Trade from Ruby/Sapphire/Emerald/FireRed/LeafGreen
Diamond/Pearl/Platinum:
Route 203, Route 204, Route 205, Route 208, Route 209, Route 210, Route 212, Route 213, Route 214, Route 218, Route 219, Route 220, Route 221, Route 222, Route 223, Route 224, Route 225, Route 226, Route 227, Route 228, Route 229, Route 230, Twinleaf Town, Lake Verity, Oreburgh Gate, Ravaged Path, Valley Windworks, Fuego Ironworks, Eterna City, Mt. Coronet, Lake Valor, Pastoria City, Great Marsh, Celestic Town, Canalave City, Iron Island, Lake Acuity, Sunyshore City, Victory Road, Pokemon League, Resort Area, Sendoff Spring
HeartGold/SoulSilver:
Mt. Silver, Lake of Rage, Fuchsia City, Cerulean Cave, Seafoam Islands
Black/White:
Evolve Magikarp
Black 2/White 2:
Nature Preserve
X/Y:
Route 3, Route 22, Friend Safari
Omega Ruby/Alpha Sapphire:
Sootopolis City
Sun/Moon:
Route 7, Route 8, Route 9, Route 13, Route 14, Route 15, Akala Outskirts, Brooklet Hill, Kala'e Bay, Malie Garden, Melemele Sea, Paniola Town, Poni Breaker Coast, Poni Gauntlet, Poni Meadow, Poni Wilds, Seafolk Village, Seaward Cave, Secluded Shore, Vast Poni Canyon
Ultra Sun/Ultra Moon:
Route 7, Route 8, Route 9, Route 13, Route 14, Route 15, Akala Outskirts, Brooklet Hill, Kala'e Bay, Malie Garden, Melemele Sea, Paniola Town, Poni Breaker Coast, Poni Gauntlet, Poni Meadow, Seafolk Village, Seaward Cave, Vast Poni Canyon
Let's Go, Pikachu!/Let's Go, Eevee!:
Route 20
Sword/Shield:
Route 2, Axew's Eye, Bridge Field, Dusty Bowl, East Lake Axewell, Giant's Cap, Giant's Mirror, Giant's Seat, Lake of Outrage, West Lake Axewell, Challenge Beach, Loop Lagoon, Workout Sea, Stepping-Stone Sea, Insular Sea, Honeycalm Sea, Honeycalm Island, Giant's Bed, Snowslide Slope, Giant's Foot, Frigid Sea, Ballimere Lake
Max Raid Battles: Bridge Field, Dusty Bowl, East Lake Axewell, Giant's Cap, Lake of Outrage, South Lake Miloch, West Lake AxewellGigantamax Raid Battles: Bridge Field, Giant's Bed, Old Cemetery, Ballimere Lake, Soothing Wetlands, Forest of Focus, Challenge Beach, Loop Lagoon, Workout Sea, Stepping-Stone Sea, Honeycalm Sea, Giant's Bed, Giant's Foot, Frigid Sea, Ballimere Lake
Brilliant Diamond/Shining Pearl:
Route 203, Route 204, Route 205, Route 208, Route 209, Route 210, Route 212, Route 213, Route 214, Route 218, Route 219, Route 220, Route 221, Route 222, Route 223, Route 224, Route 225, Route 226, Route 227, Route 228, Route 229, Route 230, Twinleaf Town, Lake Verity, Oreburgh Gate, Ravaged Path, Valley Windworks, Fuego Ironworks, Eterna City, Mt. Coronet, Lake Valor, Pastoria City, Great Marsh, Celestic Town, Canalave City, Iron Island, Lake Acuity, Sunyshore City, Victory Road, Pokemon League, Resort Area, Sendoff Spring
Legends: Arceus:
Obsidian Fieldlands: Obsidian Falls, Lake Verity or nearby
Cobalt Coastlands: Sand's Reach or nearby
Coronet Highlands: Primeval Grotto or nearby
Cobalt Coastlands: Massive Mass Outbreak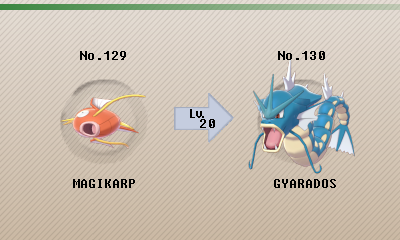 Anime Appearences
Gyarados has made a few appearances in the anime. Most notably, when wild ones aren't raging, both Misty and Lance have one and have used them, with Lance having a Shiny varaint.

#
-English Episode Name-
-Jp. Episode Name-
Pics
1
Pokémon! I Choose You!
Pokémon! I Choose You
Pics
16
Pokémon Shipwreck
Pokémon Adrift
Pics
17
The Island of Giant Pokémon
Island of Enormous Pokémon!?!
Pics
35
Not Aired
The Legend of Dratini
Pics
69
The Pi-Kahuna
Legend of the Surfing Pikachu
Pics
M1
Mewtwo Strikes Back
Mewtwo's Counterattack
Pics
71
Lights, Camera, Quacktion!
Pokémon: The Movie
Pics
85
Pokeball Peril
Southern Pokémon & The GS Ball
Pics
94
The Joy of Pokémon
Nurse Joy Sailing! Raging Waves!
Pics
M2
The Power of One
Revelation Lugia
Pics
P2
Pikachu's Rescue Adventure
Pikachu's Exploration Party
Pics
111
The Wacky Watcher
Magikarp! The True Secret!
Pics
P3
Pikachu & Pichu
Pichu & Pikachu
Pics
C4
Pikachu's Winter Vacation: Delibird's Dilemma
Delibird's Present!
Pics
Pikachu's Winter Vacation: Snorlax Snowmen
White Story!
Pics
S2
Mewtwo Returns
Mewtwo! I am Here
Pics
182
Howl Of The Houndoom
Houndoom and Togepi!
M4
Celebi: Voice of the Forest
Celebi: A Timeless Encounter
Pics
208
The Joy of Water Pokemon
Nurse Joy That Hates Water Pokémon! Misty's Wrath
Pics
218
Dueling Heroes
Whirlpool Cup! Great Battle in the Water Colosseum!
Pics
219
The Perfect Match
Ash Vs. Misty! Whirlpool Cup Final Battle!
Pics
237
Talkin' 'Bout an Evolution
Lance and the Red Gyarados! Lake Of Rage!!
Pics
238
Rage Of Innocence
Rage of the Red Gyarados!
Pics
246
Enlighten Up!
Slowpoke's Knowledge! Ash's Knowledge!
Pics
253
Beauty is Skin Deep
Clair & Dratini!
Pics
256
Better Eight Than Never
Blackthorn City Gym! The Final Badge!
Pics
M5
Heroes - Latios & Latias
The Guardian Gods of Altomare - Latias and Latios
Pics
274
Johto Photo Finish
To the End of the Full Battle! Each One's Way!!
Pics
C5
A Family That Battles Together, Stays Together!!
Brock! Save Pewter Gym!
Pics
C6
Cerulean Blue
Revenge Match at Cerulean Gym!
Pics
C11
A Date With Delcatty
The Seriousness of Misty's Match! Risking A Life!?
Pics
321
A Togepi Mirage!
Towards The Mirage! Togepi's Paradise!!
Pics
347
A Six Pack Attack!
Prof. Oak & Prof. Birch! Secret Base Battle!!
Pics
C18
The Search For A Legend
Galloping Sky Legend - Richie & Moltres!!
Pics
373
Gaining Groudon
Groudon VS Kyogre! (Part One)
Pics
374
The Scuffle of Legends
Groudon VS Kyogre! (Part Two)
Pics
S20
The Mastermind of Mirage Pokémon
The Terrifying Mirage Pokémon
Pics
446
Talking A Good Game
Salon Maiden Anabel Enters!
Pics
453
Grating Spaces
Brock & Ash! Defend Pewter Gym in Tag Battle!
Pics
501
All Dressed Up With Somewhere To Go!
It's Love! Pokémon Transformation Convention!!
Pics
S22
Pokémon Mystery Dungeon: Explorers of Time & Darkness
Pokémon Mystery Dungeon - Time & Darkness Expedition
Pics
515
Sandshrew's Locker
Mira, Abra & The Bottom of the Water!
Pics
542
Pika and Goliath
Pikachu! Raichu! The Road to Evolution!
Pics
551
A Crasher Course in Power
Pastoria Gym! VS Crasher Wake!
Pics
559
One Team, Two Team, Red Team, Blue Team!
The Final Showdown! Pokémon Triathlon!
Pics
S23
Pokémon Mystery Dungeon: Explorers of Sky - Beyond Time & Darkness
Pokémon Mystery Dungeon - Sky Expedition
Pics
606
Strategy Begins At Home
Dawn VS Mom! Showdown Between Parent & Child!!
Pics
646
For The Love Of Meowth
Goodbye Team Rocket! Meowth's Love!
Pics
M13
Zoroark - Master of Illusions
Phantom Champion Zoroark
Pics
802
Best Wishes Until We Meet Again!
Best Wishes! Until The Day We Meet Again!!
Pics
S33
TBC
Cilan and Brock! Gyarados' Outrage!!
Pics
804
Kalos, Where Dreams and Adventures Begin!
We've Come to Kalos Region! Dreams and Adventures Begin!
Pics
S35
Pokémon Mega Evolution Special I
Strongest Mega Evolution ~Act 1~
Pics
936
Coming Apart at the Dreams!
The Shocking Zygarde VS Zygarde! The Breaking World!!
Pics
937
The Right Hero for the Right Job!
Attack on Lumiose Gym! The Clembot Forever!!
Pics
938
Rocking Kalos Defenses!
The Megalith Advances! A Fight to Protect Kalos!!
Pics
971
Pulling Out the Pokémon Base Pepper
The Fierce Pokébase Match! Aim for a Home Run to Turn the Tide!!
Pics
976
Big Sky, Small Fry!
Little Wishiwashi Isn't Lacking, It's the Lord of the Lake!
Pics
M20
Pokémon I Choose You!
Pokémon I Choose You!
Pics
985
Alola, Kanto
An Alola! in Kanto! Brock & Misty!
Pics
986
When Regions Collide
Gym Battle! Z-Move VS Mega Evolution!!
Pics
1045
Alola, Alola!
An Alola! in Alola! Brock and Misty!
Pics
1056
This Magik Moment!
A New Show?! The Tiny Melody of Magikarp
Pics
1060
Drawn with the Wind!
Shaymin, Meltan and Sandy! Lost Explorers!!
Pics
1072
Battle Royal 151
Brawl! Battle Royal 151!!
Pics
1073
Battling Besties!
Mallow & Lana! A Fully Powered Battle of Friendship!!
Pics
1081
Final Rivals!
The Finals! The Ultimate Rival Showdown!!
Pics
1092
Ivysaur's Mysterious Tower!
Ivysaur is Quite Mysterious, Don't You Think So?
Pics
1101
Flash of the Titans
Dynamax Battle! Leon, The Greatest of Them All!!
Pics
1102
The Climb to Be the Very Best!
Ash VS Leon! The Path to Power!!
Pics
1135
Getting More Than You Battled For!
Battling & Getting! Mewtwo Comes Back
Pics
1140
Trials of a Budding Master!
The Great Farfetch'd Trial!
Pics
1149
Beyond Chivalry... Aiming to be a Leek Master!
Aim to Become Leek Master! Stay With Me, Chivalry!!
Pics
1166
Excitement from the Ultra-Shocking Start!
A Super-Electromagnetic Hyper Class Battle!
Pics
1173
An Adventure of Mega Proportions!
The Lucarionite! Adventure on Mega Island!!
Pics
1188
Battling Turned Up to Eleven!
Marnie from Spikemuth
Pics
1203
TBC
Fire Training Battle! Ash VS Paul!!
Pics
1205
TBC
Champions' Pride! Lance VS Diantha!!
Pics
1206
TBC
VS Cynthia! Iris' Road to Dragon Master
Pics
1210
TBC
The Climax Begins: Ash's Masters Tournament Experience
Pics
1216
TBC
Goh and Cinderace! The Place Where It All Began!!
Pics