The Dropped Item
When you reach Nimbasa City, you'll be able to find the Dropped Item, which is somebody's Xtransceiver. The moment you get this item, you will receive a call on it from the item's owner stating that they would like the Xtransceiver back. They will request to call you at numerous points, but the locations they call you are very specific, only 15 areas each on a specific tile. These are the exact tiles shown below. After a couple of calls, you will learn that the owner of the Xtransceiver is Yancy/Curtis, one of the presenters of a variety of TV programmes in Unova. Yancy will appear if you're male and Curtis if you're female.
| | | | | |
| --- | --- | --- | --- | --- |
| Nimbasa City | Route 5 | Route 16 | Driftveil City | Route 6 |
| | | | | |
| Mistralton City | Route 7 | Lentimas Town | Undella Town | Route 13 |
| | | | | |
| Route 14 | Lacunosa Town | Route 12 | Route 11 | Route 9 |
| | | | | |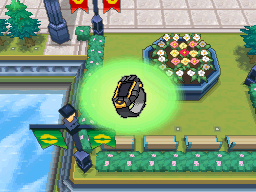 Calling them
Once you have had 10 phone calls, they will call you and arrange to meet in Nimbasa City. They will meet you outside the Ferris Wheel and talk to you there. After that, they will register themselves in your Xtransceiver, however they will only appear in certain areas randomly, the same areas as above, but not limited to a single tile.
As you call them, you will have many conversations about a variety of subjects. On the 30th call they'll tell you they want to meet at Nimbasa City where they'll ride the Ferris Wheel with you. Call them to total 50 times, in the 40th call they'll be 'SOUND ONLY', in the 50th call they'll be wearing their work clothes, and cut the line in a second or so.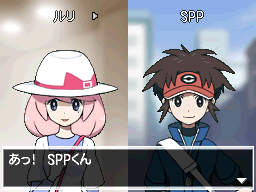 Trades
Once you have called them anywhere between 30 and 50 times, call the next day and you can meet them outside of the Ferris Wheel where they will trade. They have a variety of Pokémon, whose species depends upon the gender of the character. All these Pokémon have their Hidden Abilities and most aren't available in the Unova Region. You can repeat trades one a day, even repeating the species of the Pokémon.
Yancy - If you're Male
Meowth
Level 50

??? Nature.
Date Received. Link Trade. Apparently received at Level 50

Trader requests any Pokémon
Wobbuffet
Level 50

??? Nature.
Date Received. Link Trade. Apparently received at Level 50

Trader requests any Pokémon
Ralts
Level 50

??? Nature.
Date Received. Link Trade. Apparently received at Level 50

Trader requests any Pokémon
Shieldon
Level 50

??? Nature.
Date Received. Link Trade. Apparently received at Level 50

Trader requests any Pokémon
Rhyhorn
Level 50

??? Nature.
Date Received. Link Trade. Apparently received at Level 50

Trader requests any Pokémon
Shellos
Level 50

??? Nature.
Date Received. Link Trade. Apparently received at Level 50

Trader requests any Pokémon
Mawile
Level 50

??? Nature.
Date Received. Link Trade. Apparently received at Level 50

Trader requests any Pokémon
Spiritomb
Level 50

??? Nature.
Date Received. Link Trade. Apparently received at Level 50

Trader requests any Pokémon
Snorlax
Level 50

??? Nature.
Date Received. Link Trade. Apparently received at Level 50

Trader requests any Pokémon
Teddiursa
Level 50

??? Nature.
Date Received. Link Trade. Apparently received at Level 50

Trader requests any Pokémon
Spinda
Level 50

??? Nature.
Date Received. Link Trade. Apparently received at Level 50

Trader requests any Pokémon
Togepi
Level 50

??? Nature.
Date Received. Link Trade. Apparently received at Level 50

Trader requests any Pokémon
Curtis - If you're Female
Mankey
Level 50

??? Nature.
Date Received. Link Trade. Apparently received at Level 50

Trader requests any Pokémon
Wobbuffet
Level 50

??? Nature.
Date Received. Link Trade. Apparently received at Level 50

Trader requests any Pokémon
Ralts
Level 50

??? Nature.
Date Received. Link Trade. Apparently received at Level 50

Trader requests any Pokémon
Cranidos
Level 50

??? Nature.
Date Received. Link Trade. Apparently received at Level 50

Trader requests any Pokémon
Rhyhorn
Level 50

??? Nature.
Date Received. Link Trade. Apparently received at Level 50

Trader requests any Pokémon
Shellos
Level 50

??? Nature.
Date Received. Link Trade. Apparently received at Level 50

Trader requests any Pokémon
Sableye
Level 50

??? Nature.
Date Received. Link Trade. Apparently received at Level 50

Trader requests any Pokémon
Spiritomb>
Level 50

??? Nature.
Date Received. Link Trade. Apparently received at Level 50

Trader requests any Pokémon
Snorlax
Level 50

??? Nature.
Date Received. Link Trade. Apparently received at Level 50

Trader requests any Pokémon
Phanpy
Level 50

??? Nature.
Date Received. Link Trade. Apparently received at Level 50

Trader requests any Pokémon
Spinda
Level 50

??? Nature.
Date Received. Link Trade. Apparently received at Level 50

Trader requests any Pokémon
Togepi
Level 50

??? Nature.
Date Received. Link Trade. Apparently received at Level 50

Trader requests any Pokémon