The Royal Unova
The Royal Unova is a boat found at the dock by the Pokémon Centre in Castelia City. Unlike in Pokémon Black & White, you can go on the boat straight away, as soon as you enter Castelia City. The Royal Unova sets sail once a day, with it's sailing time varying between season.
Spring: 17:00-19:59
Summer: 19:00-20:59
Autumn: 17:00-19:59
Winter: 16:00-18:59
It costs you 1,000 PokéDollars to get on. However, there is a catch. There is a time limit to being on the boat. Once that time limit is passed, the boat redocks at Castelia City and you get given an item based on the trainers you defeated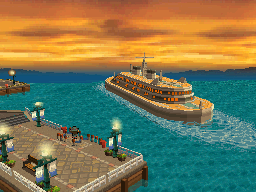 Trainers
In the various rooms of the Royal Unova are numerous characters and trainers. Some will offer you battles, while others will give you a variety of items afterwards. The trainers that battle you will give you a good chunk of money and can be rebattled each day with different ones battling you on different days so be sure to keep coming back.
The items you can receive on the Royal Unova are as follows;
Picture
Name
Effect
Day + Trainers Defeated
Lava Cookie
Lavaridge Town's local specialty. It heals all the status problems of one Pokémon.
Monday - Four Trainers
Wednesday - Four Trainers
Friday - Four Trainers.
Berry Juice
A 100% pure juice made of Berries. It restores the HP of one Pokémon by just 20 points.
Tuesday - Three Trainers.
Old Gateau
Old Chateau's hidden specialty. It heals all the status problems of a single Pokémon.
Thursday - Five Trainers.
RageCandyBar
A delicacy from the Johto Region. Heals all status problems.
Saturday - Six Trainers.
Rare Candy
A candy that is packed with energy. It raises the level of a single Pokémon by one.
Sunday - Seven Trainers.
Below is a list of all the trainers you can battle within the Royal Unova.