Global Battle Union

Within the Global Link, there is the Global Battle Union feature. This feature essentially gives a ranking system for the battles you partake in through the Random Match feature of the game, speciafically when it's a Rating Mode battle. Each player starts off with a point value of 1500 and when you win or lose in a Random Match battle, the score will go up and down depending on how well you have done.

These are ranked within several different categories;
Total - Your total score
Single Battle - Your score in Single Battles
Double Battle - Your score in Double Battles
Triple Battle - Your score in Triple Battles
Rotation Battle - Your score in Rotation Battles
Shooter Battle - Your score in Shooter Battles

There are also going to be various tournaments over Random Match Wi-Fi for which you'll be able to sign up on this site.

In the profile of the Global Link, you'll be able to access a variety of features including your own battle record, how well you did in the Global Link competitions and you can store a number of Battle Videos which you class as your favourites. These are visible to all of your friends.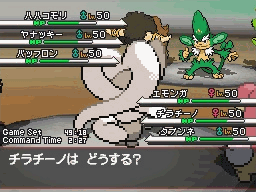 Random Match
To access the Random Match part of the game, talk to the attendant on the right on the top floor of each Pokémon Centre. Random Match will be an option under the GTS. Here, you can go in and select the various Random Match styles you want. You'll be able to play with people over WiFi who aren't in your friends list.
Rules
Pokémon of Level 51 or above are lowered to Level 50 while those under Level 50 will remain their current level
You cannot have two of the same Pokémon or item in your team
Items that aren't available in Generation V as of yet, including event Berries, cannot be used
No Pokémon with the move Sky Drop can be used
Two minutes to decide upon the moves to use
Matches last no more than one hour
Battle Styles
Single Battle - Use 3 Pokémon
Double Battle - Use 4 Pokémon
Triple Battle - Use 6 Pokémon
Rotation Battle - Use 3 Pokémon
Shooter Battle - Use 6 Pokémon in a Triple Battle
Random Match Modes
Rating Mode - Uses your battle stats to be included in the Battle Union's ranking system. Requires Global Link syncing
Free Mode - Only tracks your Win/Loss for your Trainer Card
Not all Pokémon are usable in the Random Match feature with almost all legendary Pokémon banned. The list of the Pokémon which cannot be used is as follows: