Return & Frustration
Return & Frustration are two rather unique moves in that the damage utilised is proportionally based upon how much the Pokémon likes its trainer. This is done utilising the Happiness Value of the Pokémon.
The Happiness Value is always a number between 0 and 255 and as such, the figure of this is utilised within the formula that calculates the damage. There is no way to get the exact figure for the Happiness however so it may be impossible to get an exact figure.
Return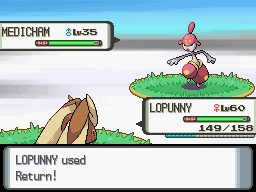 Return is the move that utilises the Happiness in a more positive light, by rewarding the amount the Pokémon likes the trainer. It is a Normal Type Physical Attack with 20PP and 100% accuracy. It's power is calculated by the following means:
Base Power = Pokémon Happiness / 2.5
This gives a maximum result of 102 and a minimum result of 1
Frustration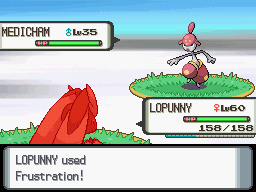 Frustration is the move that utilises the Happiness in the negative light, by rewarding the amount the Pokémon hates the trainer. It also is a Normal Type Physical Attack with 20PP and 100% accuracy and it's power is calculated by the following means:
Base Power = (255 - Pokémon Happiness) / 2.5
This gives a maximum result of 102 and a minimum result of 1
With this in mind, if you have justr got a Pokémon in a trade and wish to use one of these attacks, its is best to use Frustration, however if you've been training the Pokémon for a while, Return is clearly the better choice