Varied Stat Moves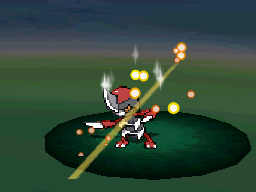 Since the beginning of the franchise, moves have been based solely upon the stats of move. Physical moves always used the Attack & Defense stats and Special moves always used the Special Attack & Special Defense stats in order to calculate damage. However, in Pokémon Black & White, this changed with three moves which do damage based upon a cross between the moves.
Despite the moves being Special moves, they inflict physical damage. This is different to the damage normally inflicted as it uses the user's Special Attack as the power stat but uses the opponent's Defense in order to calculate the damage to be inflicted upon the opponent. The damage calculation is as follows;
Damage = ((((2 * Level / 5 + 2) * SpecialAttackStat * AttackPower / DefenseStat) / 50) + 2) * STAB * Weakness/Resistance * RandomNumber / 100
However, despite these moves inflicting Physical damage, they are still subject to the various restrictions and defenses against Special moves. Mirror Coat will reflect the damage of this attack and Light Screen will lower the strength of the move. In addition to this, the Rowap Berry will activate from this move and the various items boosting special moves will boost it.
There are three moves which calculate damage this way. One move, Psyshock is obtained via TM03 in Unova. However, Psystrike & Secret Sword are both unique to two respective Pokémon; Mewtwo & Keldeo with the last being a move tutor only move for it.
| | | | | | | |
| --- | --- | --- | --- | --- | --- | --- |
| Name | Type | Cat. | PP | Att. | Acc. | Effect |
| Psystrike | | | 10 | 100 | 100 | It makes its mysterious brain waves real and attacks the opponents. It deals Physical damage. |
| Psyshock | | | 10 | 80 | 100 | It makes its mysterious brain waves real and attacks the opponents. It deals Physical damage. |
| Secret Sword | | | 10 | 85 | 100 | It slashes at the opponent with its long horn. The mysterious power of the horn deals physical damage. |