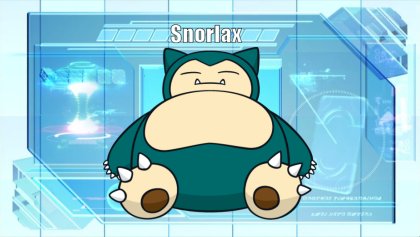 Snorlax, The Sleeping Pokémon. It is not satisfied unless it eats over 880 pounds of food every day. When it is done eating, it goes promptly to sleep. Its stomach can digest any kind of food, even if it happens to be moldy or rotten.When its belly is full, it becomes too lethargic to even lift a finger, so it is safe to bounce on its belly.What sounds like its cry may actually be its snores or the rumblings of its hungry belly. Its stomach's digestive juices can dissolve any kind of poison. It can even eat things off the ground.
Overview
Snorlax let out a heavy sigh as he crammed himself back into his run down trailer. It was another long day at the lumber mill. Things weren't getting any better and he wasn't getting any younger. In his youth he was a star. He could use Hyper Beam and Belly Drum like none of his peers. His ability to use Curse was unmatched. Nothing was as good at what he did and nothing ever would be. But somewhere along his career something went wrong. Snorlax pushed aside the piles of unpaid bills and wedged himself back into his stained lounge chair. One greasy, tubby hand pawed at the remote, while the other buried itself in a bag of expired cheetos. He flipped the TV on just in time to watch a Mega Lucario ram a Close Combat right into the face of a Delphox. Snorlax heard a faint voice utter "It's not very effective" as the magical fox fell to the ground in agony. He changed the channel - It was an Infernape. Snorlax angrily continued channel surfing... Scizor, Blaziken, Aegislash, Skarmory, Terrakion... It was all the same. Snorlax let out a flurry of Curses. His Attack and Defense rose, but as his Speed fell he slumped back into his greasy chair and realized the undeniable truth... The world had simply changed too much for a fat bear like himself to keep up.
Positives
- High HP, Attack, and Special Defense give Snorlax the perfect stats to shrug off Special hits and retaliate hard. Assault Vest makes it all but unkillable on the Special side.
- Ghost immunity is incredible now that Steel no longer resists it. Pursuit makes Snorlax an excellent Ghost hunter even if the concept of 'lax chasing anything down is doubtful at best.
- It blocks roads well.

Negatives
- Tyranitar and Scizor basically do the ghost killing job better with stronger Pursuits and better typing.
- Snorlax's flagship sets Hyper Beam, Belly Drum, and Curse that made him popular in the past are now completely useless.
- Close Combat exists.
- No recovery besides Rest / Sleep Talk prevents Snorlax from sticking around reliably. Why doesn't it learn Slack Off?
- Slow. You Speed tie with Slowbro and get circles run around you by Bronzong.
- Snorlax's Defense isn't very good. It will take hits okay because of its massive HP but it will crumble before boosted strikes.
- Normal typing has terrible neutral coverage. No matter what you run something will always wall you.
- The Pokeflute doesn't exist anymore as a usable item. When Snorlax falls asleep don't expect it to survive long enough to wake up again.
Abilities
Immunity: The Pokémon cannot be under the POISON condition while having this ability. Thick Fat is better but if your team has those two types covered Immunity is kinda usable I guess.
Thick Fat: Fire and Ice-type moves deal 50% damage. Amazing. Effectively gives you two resistances and an immunity. Not much but it means crazy sun boosted Fire Blasts won't rip Snorlax in two.
Hidden Ability (Not Available):
Gluttony: A held Berry is eaten earlier than usual when HP is low. You should never use this for any reason.
Movesets
Your path is blocked!
- Return / Body Slam
- Pursuit
- Earthquake
- Fire Punch / Wild Charge / Crunch / Selfdestruct / Ice Beam / Fire Blast
Item Attached: Assault Vest
Ability: Thick Fat
EVs and Nature:
EVs: 252 Atk / 4 HP / 252 SDef
Adamant Nature
Snorlax has fallen hard from his glory days. For a time it was the most powerful non-Legendary Pokemon in the game. Sadly the move "Close Combat" alongside a bunch of Fighting types has all but guaranteed Snorlax will never again be a Pokemon seen in standard play. It does have a few sets that BARELY make him usable. Assault Vest gives Snorlax a decent niche as a bulky Pursuit trapper. The vest gives Snorlax a 1.5x boost to its Special Defense. That boost is so great that Gengar Focus Blast is only a 4HKO, Specs Latios Draco Meteor a 5ish-HKO, and Greninja's omni-STAB hits practically bounce off your quivering hide. This gives you ample time to Pursuit them into oblivion. Against a foe that might not immediately switch you can try your luck with a number of other offensive moves. Return is your primary power move; one that is strong enough to wipe out Greninja in one shot and Latias/os in two. If you are looking for more utility Body Slam is an option for its annoying 30% Paralysis chance. The damage drop is noticeable though. Pursuit is the most important move on the set. It crams a hot load of inescapable destruction into the nearest Psychic or Ghost type so your favorite Fighting type can sweep. Ironic that Snorlax's only remaining use is to help the same Fighting types that put him out of a job. Earthquake hits Heatran, Lucario, and Aegislash but don't expect to beat the latter two very often. The last slot can be pretty much anything. Fire Punch strikes the one Pokemon you actually outspeed, Ferrothorn, for massive damage. It also hits Forretress and Scizor but won't outdamage Return and Earthquake on much else. You 4HKO Skarmory AT BEST so don't try using it for that. Wild Charge blitzes Gyarados who think you can't hurt them but otherwise hits nothing of value. Crunch strikes down Gengar in one hit and prevents it from Disabling your only means of hitting it (Pursuit). Selfdestruct has 300 base power with STAB, more than enough to wipe out anything that isn't particularly bulky. Ice Beam is a weird option but it does about 70-80% to Landorus and Gliscor which is significantly more than anything else Snorlax can muster. If you run Ice Beam use a Brave Nature instead of Adamant. It actually makes a decent fighting type partner as it can Pursuit Ghost and Psychics and lure in and Ice Beam physical flying walls. Fire Blast is a final option to hit the same things Fire Punch hits but also catch Skarmory for a solid 2HKO. It also OHKOs Forretress and max HP Scizor as well as 2HKOing Ferrothorn. It is a light slap against anything else though.
Snorlax woke up! It attacked in a grumpy rage!
- Return / Double Edge
- Pursuit
- Earthquake
- Fire Punch / Wild Charge / Crunch / Selfdestruct
Item Attached: Choice Band
Ability: Thick Fat
EVs and Nature:
EVs: 252 Atk / 252 HP / 4 SDef
Adamant Nature
Band Snorlax runs a slightly different route. While it still can tank Special hits well enough slapping a Choice Band on Snorlax turns it into a pretty solid hitter. Choice Band Return hits like a truck easily smashing aside all but the most physically bulky Pokemon in 1-2 hits. Double Edge hits even harder possibly 2HKOing even some Hippowdon. The recoil can be a pain but the damage difference is noticeable while the high HP sponges a bit of the recoil. Pursuit has pretty decent power when boosted by Choice Band. So much so that it can OHKO a Gengar that stays in provided it takes Stealth Rocks and Sandstorm damage. Earthquake brushes aside most grounded Steel types and exterminates Tyranitar. Fire Punch wrecks Scizor and his 4x weak friends but also has enough power to force Skarmory to switch out. It doesn't 2HKO but it does enough to keep Skarmory spamming Roost until it is either burned or crit. Wild Charge on the other hand is a solid 2HKO on Skarmory while also demolishing Gyarados. Crunch pounds Lati@s into the ground and cuts a significant chunk of Celebi's life away. Selfdestruct deals incredible damage, doing up to 85% to even 252/252 Impish Hippowdon. With proper use of Pursuit and Selfdestruct you can possibly manage two KOs per game... if you're lucky.
Other Options
Curse, Belly Drum, Whirlwind, Superpower, Rest + Sleep Talk, and Seed Bomb
If you would like to relive some of Snorlax's glory days Curse can be used. The problem is it lacks enough coverage with its remaining moveslots to attempt much of a sweep. It's also incredibly vulnerable to Close Combat and Trick, both of which are on nearly every team. It also loses to things like Swords Dance Landorus and Mega Kangaskhan that simply boost up faster than Snorlax can.
Belly Drum is bad and should never be used. Lets just get that one out of the way.
For some reason Snorlax learns Whirlwind (... but not Slack Off). It's decent on something with those stats but if you're trying to use Snorlax as a wall or phaser you should really be using something else.
Superpower blasts Tyranitar hard who might actually try and switch in on you. It doesn't hit much else that your other moves don't already however.
Rest + Sleep Talk is decent but with the popularity of Spikes and the general power increase Snorlax simply lacks the ability to survive for three turns.
Seed Bomb hits Rotom W and Quagsire but literally nothing else worth noting.
Double & Triple Battle Options
Slow and fairly bulky. Selfdestruct is his main selling point. There are slightly too many Close Combats floating around for Snorlax to be a top tier threat but if you want to run it Snorlax can probably make its mark on the opponent.
Countering Snorlax
Lucario is probably the biggest counter. Close Combat utterly ravages the tubby bear even if it has used Curse a few times. Snorlax can do little back besides hope he can catch Lucario on the switch in with Earthquake. Aegislash takes very little from anything, even Earthquake, and Swords Dances in Snorlax's face. Secret Sword ignores stat boosts so Snorlax can't even try to Curse up. Skarmory doesn't care much about what Snorlax does and Spikes, then Whirlwinds you away. Spike damage will add up and Snorlax has no good ways of healing itself. Ferrothorn does a similar job but with Leech Seed sapping away at Snorlax's gargantuan HP. Scizor laughs at Snorlax as well as long as it doesn't take a Fire Punch. Terrakion crushes Snorlax with Close Combat. In fact anything that is of the Fighting type and learns Close Combat is a counter. Really anything with Superpower. Even some things with Outrage like Kyurem and Garchomp are counters because Snorlax just can't take many physical hits (not even with Curse). The best way to beat Snorlax is to try and play carefully around Pursuit by using your Ghosts / Psychics sparingly. Then just send in whatever on your team can take a normal move and deal significant damage back... which is basically every Physical attacker in the game. Snorlax was once a glorious golden standard of power back in the day. But over the next 15 years it didn't really change much at all. It watched as the world passed it by. Snorlax is an outdated relic of the past and is not something you have to prepare for, but something you will just passively beat because its tactics are so primitive that they won't have much of an effect on most modern strategies.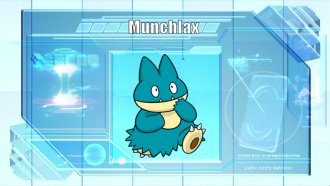 Pre-Evolution Corner - Munchlax
Living the Lax-urious Life
-Recycle
-Return
-Power-up Punch / Fire Punch
-Earthquake / Pursuit
Item Attached: Berry Juice
Ability: Thick Fat
EVs and Nature:
EVs: 236 Atk / 36 Def / 236 Sp. Def
Adamant Nature (+Atk, -Sp. Atk)
Munchlax is a Pokemon in Little Cup that has a lot of potential. It has a very high base stat total (especially for a baby), very high hp, very good movepool, and a variety of different things it can pull off. The downsides though are very exploitable. Even with high Health and Special Defense, its physical defense is very poor and its speed is tied for the lowest speed of ALL Pokemon. It does take a commendable amount of time to kill though and this set is based around that feature. Recycle + Berry Juice is way too good and makes Munchlax extremely potent. Return hurts coming from a good Attack stat. Power-Up Punch is one of the few new things the Snorlax line got. Fire Punch hits Steels for solid damage, and usually hits harder than Power-Up Punch. Earthquake hits Rock-Types hard and is good for coverage. Pursuits is good for frail Psychic-Types if they try to switch out. Thick Fat just gives it more resistances in Layman's Terms. The EV's and nature max out Munchlax's good Attack and making it tankier. Fighting-Types still destroy Munchlax, as its Defense is really bad. Toxic and burns destroys Munchlax as well. If left alone however, without many physical attackers around, Munchlax can wreck teams.
Stop Cursing. Try to Re-Lax
-Curse
-Rest
-Sleep Talk
-Body Slam / Return
Item Attached: Eviolite
Ability: Thick Fat
EVs and Nature:
EVs: 236 Atk / 36 Def / 236 Sp. Def
Adamant Nature (+Atk, -Sp. Atk) / Careful Nature (+Sp. Def, -Sp. Atk)
To deal with Munchlax's bad Defense and tankiness Curse with Restalk is brilliant. It does take a bit to set-up but once it gets going it is incredibly dangerous and impossible to kill. Curse boosts Munchlax's Attack and Defense, and lowers it's pointless Speed, since it is literally outrun by everything. Rest gets rid of bad status effects and always brings it up to full health. Sleep Talk still lets Munchlax attack while sleeping or set up more Curses. Body Slam is good because it can hinder enemy Pokemon as well as doing damage with Paralysis which in some cases lets Munchlax have it's dream come true: moving first. Return is a more damage alternative, but both are good. Thick Fat again gives it retroactive resistances to Ice and Fire moves. EV's and Nature are the same as the first set, but you could use a Special Defence boosting Nature if you know you can set up more Curses. A bit of momentum to start up up this Munchlax set, and it really it's hard to stop without a few critical hits.