Dawn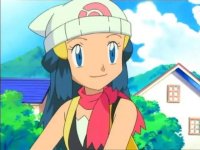 Dawn (Jp. Name: Hikari)

Hometown: Twinleaf Town, Sinnoh
First Appearence In Episode: Following a Maiden Voyage!

Biography

Dawn is an eager girl who has just started on her Pokémon journey. Coming from a family of co-ordinators, her mother winning the Grand Festival, Dawn has her heart set on following in her mother's footsteps and being a great Pokémon Co-ordinator in the Pokémon Super Contests. After befriending Piplup while searching for a Chimchar that escaped from the lab, she quickly met with Ash after finding Pikachu whom was running from Team Rocket. Dawn soon decided to join Ash on his journey through Sinnoh. However, Dawn does seem to be a bit too sure of herself and her strengths as a trainer

Achievements

Since Dawn is just starting out, her achievements are few and far between:

Pokémon on Team
Pokémon Picture
Episode Obtained

Piplup

Having run off from the lab in a dispute with Chimchar, Dawn finds Piplup trapped in a web and helps it out. Piplup & Dawn grew a close bond very quickly. Piplup can be described as a brat, but it truely tries its best in battles, despite the fact that its not the most powerful Pokémon. Dawn tends to let Piplup stay out of its Pokéball but does keep it in sometimes

Obtained in episode: Following a Maiden Voyage!

Buneary

After having various Buneary attack her during her travels, Dawn came across another Buneary. Eager to add it to her team, she attempts to battle it and eventually succeeds and captures it. Buneary is female and appears to have a crush on Ash's Pikachu and knows many poweful attacks including Ice Beam

Obtained in episode: Lets Play with Buneary!

Pachirisu

During her travels, Dawn met up with a hyper Pachirisu. After several problems between Pachirisu and the group, Dawn eventually befriended the cute little squirrel. It is a loving Pokémon, that is known to shock Dawn whenever it is happy, causing Dawn a Bad Hair Day. However, it has some powerful attacks including Spark so it is able to hold its own in battle.

Obtained in episode: I Got a Pachirisu! Is that Ok?